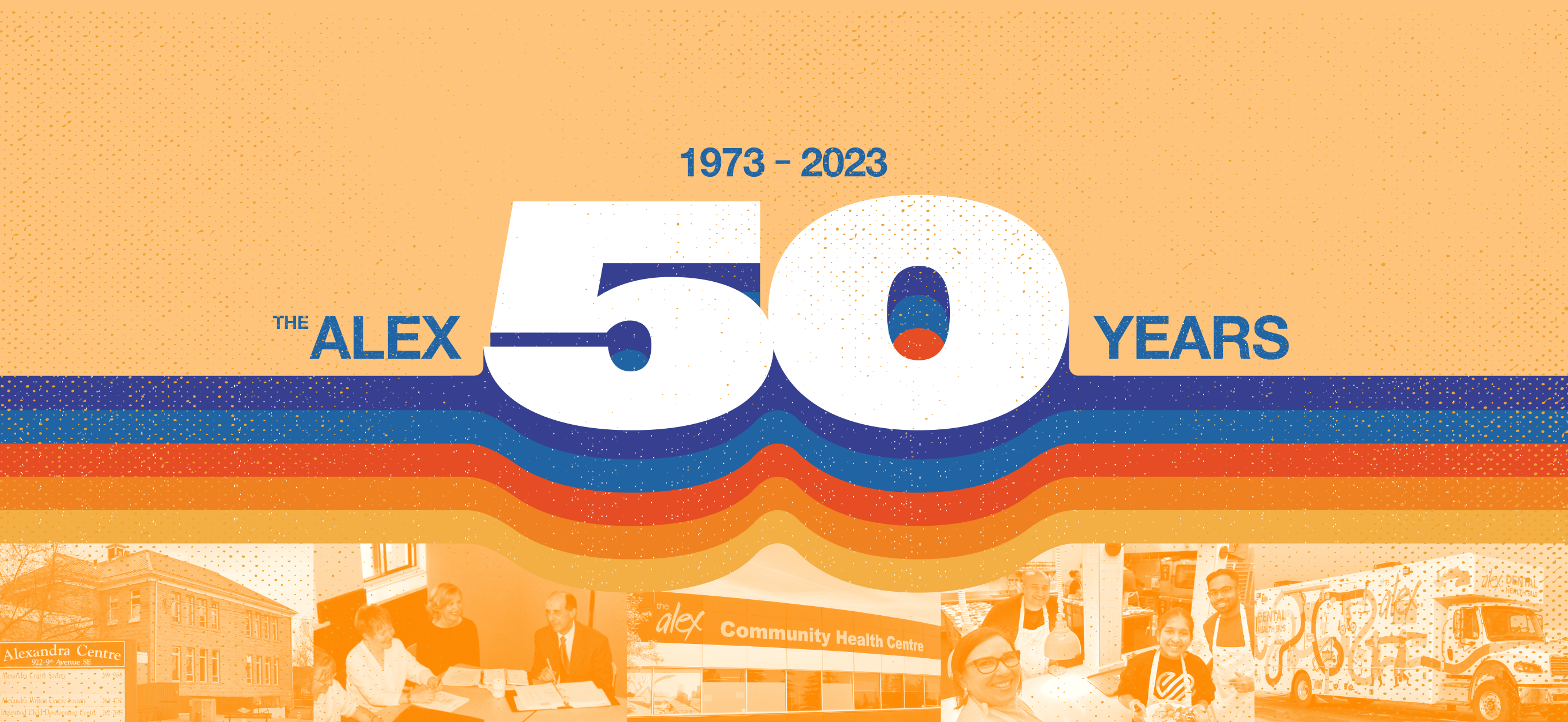 50 Years of Health. Home. Humanity.
Serving Calgary for half a century, The Alex works to strengthen individual wellbeing and dignity by providing primary health care and wraparound social service support for vulnerable Calgarians.
A Message From Joy Bowen-Eyre, CEO, The Alex
A message from Jeff Meunier,
Board Chair, The Alex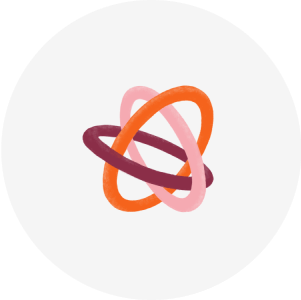 Our Vision
The Alex envisions a healthy and caring community where everyone is valued and can thrive.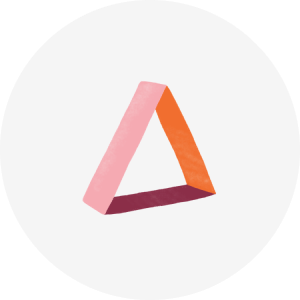 Our Mission
To improve quality of life through accessible and integrated health, housing, and social services.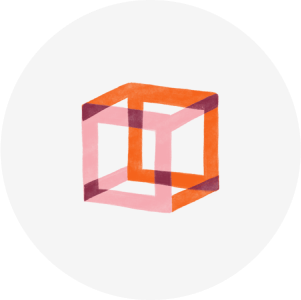 Our Values
We connect.
We have grit.
We care deeply.
We are welcoming.
We take responsibility.
We are change makers.
We promote empowerment.
The story of The Alex is not a story about buildings and programs. It is a story about individual people who, empowered with the right resources, can improve the quality of their health, their relationships, and their community. From our humble start in a historic sandstone building located in Inglewood in 1973, The Alex now offers a full complement of health, housing, and community programs. Every year, we help 15,000 Calgarians tackle tough health and social issues, walking alongside people as they make their way from challenge to change.
50 Years of Health. Home. Humanity.
Pre 1972
The Alex's history begins in a repurposed gas station and garage located in the Ramsay Area.
1972
A Family Community Health Centre opens at the Inglewood Health Clinic at 922 9th Ave SE, the site of The Alexandra School in Inglewood.
1973
Alexandra Community Health Centre granted charitable status. As a recognized non-profit, funding and grant opportunities become available, encouraging growth and expansion.
1976
For the first time, the Board of Directors successfully applied to Alberta Health for special funding to cover expenses for one physician and 1/3 of administrative costs.
1985
Victorian Order of Nurses (VON) opens a weekly foot clinic.
1988
Computerized information systems now consolidate and streamline our administrative, financial, and statistical functions..
1991
Working with community groups and partner agencies to provide wraparound care to our clients becomes a priority as The United Way begins funding health education programs and physicians in direct health care.
1992
A multicultural internship counseling program sponsored by the City of Calgary and a grant from Alberta's Family and Community Support Services is approved. The Healthy Kids immunization clinic opens.
1998
A partnership with Calgary Health Region is established and a multidisciplinary team formed. Over the next couple years, a stronger partnership increases the funding that supports 74% of our operating expenses.
2000
The Seniors Community Health Centre officially opens its doors, providing comprehensive outreach and medical support for low-income seniors.
2001
Food programs expanded: the Good Food Box, Spinz-A-Round and Community Kitchens initiatives provide proper nutrition for people who would not otherwise be able to afford or access it.
In partnership with Calgary Parks and Recreation, Kiwanis Club, and the Calgary YMCA, summer programs for children begin.
2002
The West Dover Community Health Centre launches, providing primary health care and counseling services for people connected to the Patch Project Program operated by Hull Services.
The Alex Community Health Bus launches, providing isolated and otherwise at-risk people with preventative medical services and support.
2003
The Suds & Savings Community Laundromat opens in Ramsay, employing low-income individuals, offering low-cost access to laundry services, and becoming a community hub.
2006
The Alex Community Health Centre location opens, centralizing services that had been spread out across the city.
2007
Pathways to Housing launches, placing individuals into homes first, then providing supports to work on issues contributing to their homelessness.
2008
The Youth Health Centre opens at the Centre Street location. The Alex is designated a teaching site for residents and medical students of UCalgary's Faculty of Medicine. The Foothills Breastfeeding Clinic – now the Well Fed Clinic – joins us at Centre Street.
2009
HomeBase launches, connecting Calgary's homeless people with resources and supports to break the cycle of poverty and homelessness.
2012
The Youth Health Bus, the first of its kind in Canada, begins visiting high schools around Calgary, bringing mobile health care to at-risk youth. It wins the CBE Lighthouse Award for its outstanding contribution to students.
The Calgary Police Commission recognizes The Alex for helping youth and vulnerable populations avoid or navigate the justice system through a Community Policing Award.
2013
The Alex Dental Health Bus joins our mobile health fleet, bringing dental education and preventative care to high-need elementary schools and community sites.
During the historic floods, The Alex mobile buses serve as first responders, deploying teams to emergency evacuation centers.
2017
The Community Health Centre and Youth Health Centre move to their new home across from the Franklin LRT Station. The Alex centralizes its community, youth, & housing support services here. We celebrate the opening of The Alex Community Food Centre in Forest Lawn.
The Alex is selected by HomeSpace Society to manage a new 23-unit building in Radisson, adding Prelude to our group of supportive housing programs. Operating on the principles of harm reduction, we support clients with their mental health needs, addiction issues and medical recovery, empowering them to reclaim their lives.
2020
The Alex's Rapid Access Addiction Medicine (RAAM) clinic opens. The Alex is deemed an essential service and remains operational throughout the Covid-19 pandemic.
In response to the pandemic, The Alex partners with Alberta Health Services, The Calgary Homeless Foundation, and CUPS to establish the Assisted Self-Isolation Site, providing medically-supported accommodations for those experiencing homelessness who needed to self-isolate.
A pandemic Social Dispatch team (social workers, youth workers, justice navigators, client resource specialists, case managers, food educators and more) manage a phone bank, providing critical lifelines and triage to our clients and patients.
2021
The Alex unveils a new Indigenous gathering space called Isspomaanitapi, meaning a person or entity with a helping nature in Blackfoot. The name was given by Elder Duane Mistaken Chief on June 22 (National Indigenous Peoples Day) during a traditional Naming Ceremony.
2022
The Alex Mobile Care Clinic, powered by TELUS Health, hits the streets; it is equipped to provide the most vulnerable Calgarians with immediate, high-quality and compassionate care, when and where they need it.
To mark the program's first decade, a new, custom-built mobile dental clinic rolls out, continuing to bring dental health care to high-need elementary schools and community sites.
Earl's Journey with The Alex
From addiction and homelessness to inspiring advocate for recovery, Earl Thiessen shares his personal journey in order to support, encourage and inspire others.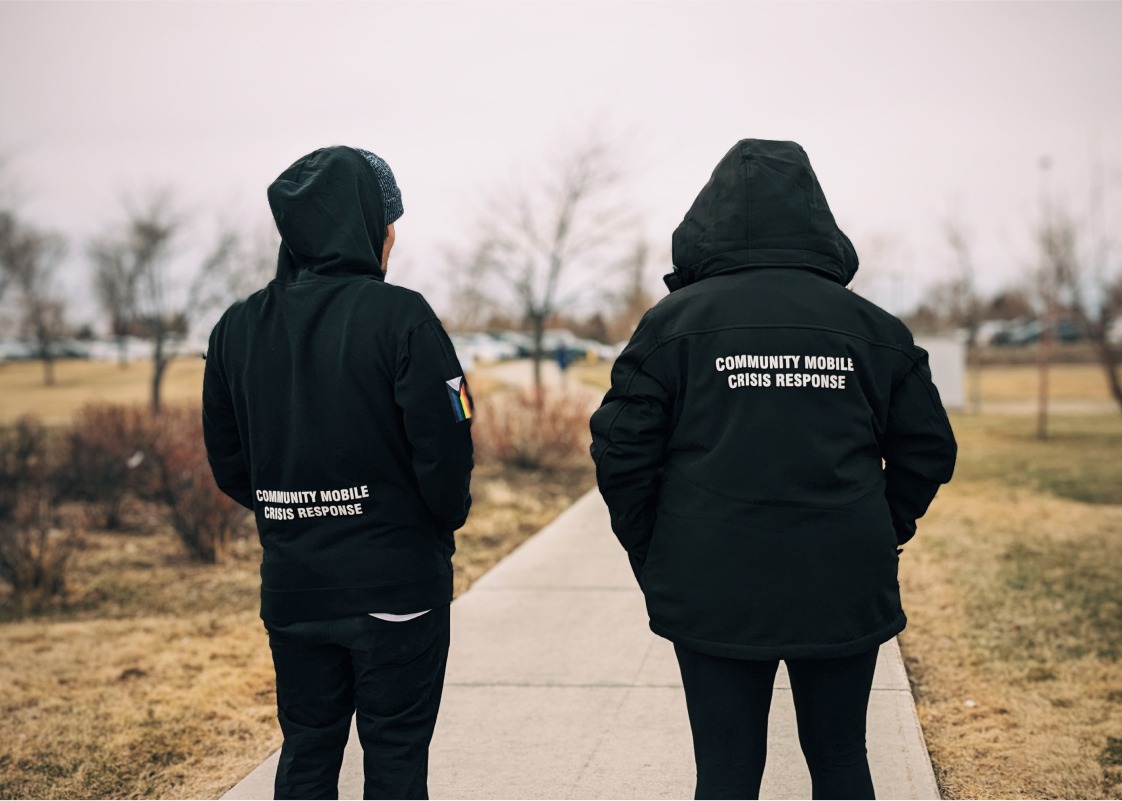 Community Mobile Crisis Response
The first of its kind in Alberta, The Alex's mobile, community-based crisis response pilot program meets the needs of Calgarians where they are at – when they need it. Launched in February 2023, the 12-month pilot for non-emergency mental or emotional distress support is a person-centric, trauma-informed, equity-based approach to crisis response.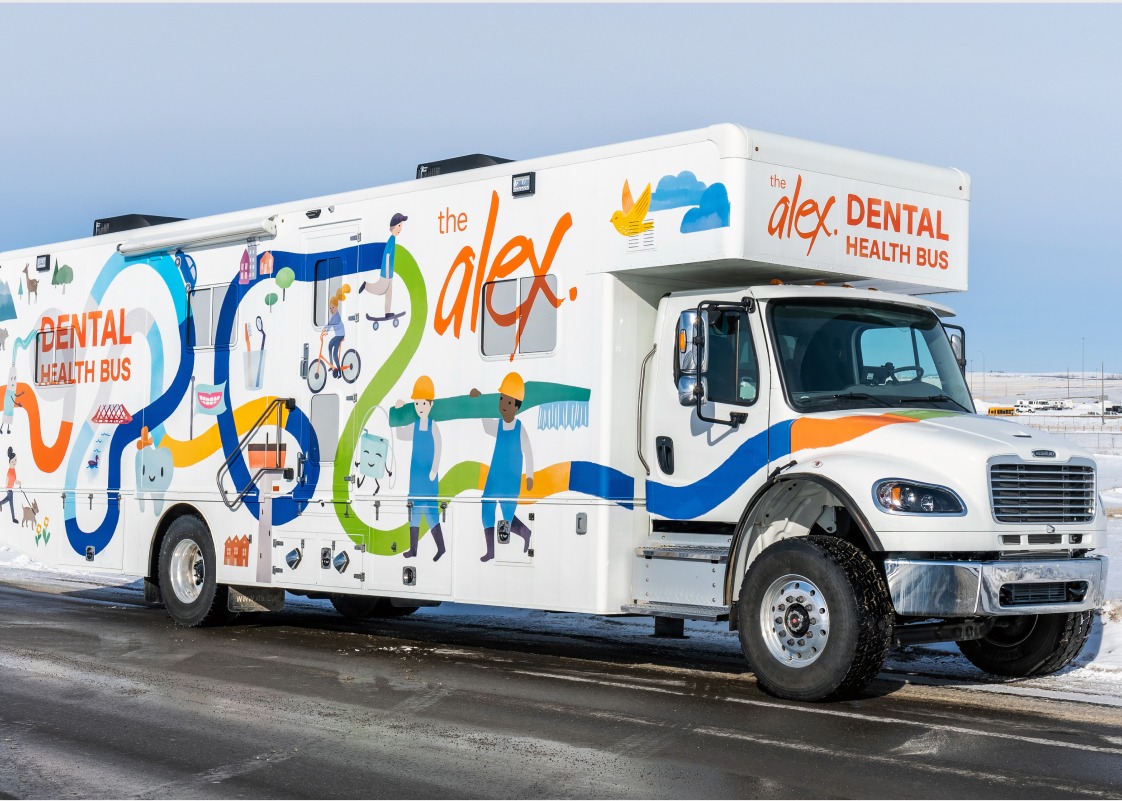 New Dental Bus Hits the Road
Smile! Our brand new Dental Health Bus is on the road, bringing dental education and preventative care to high-need elementary schools and community sites across the city.
Over the last 10 years, our dental health bus clocked more than 53,000 kilometers traveling to area schools. In that time, we've served more than 31,000 children.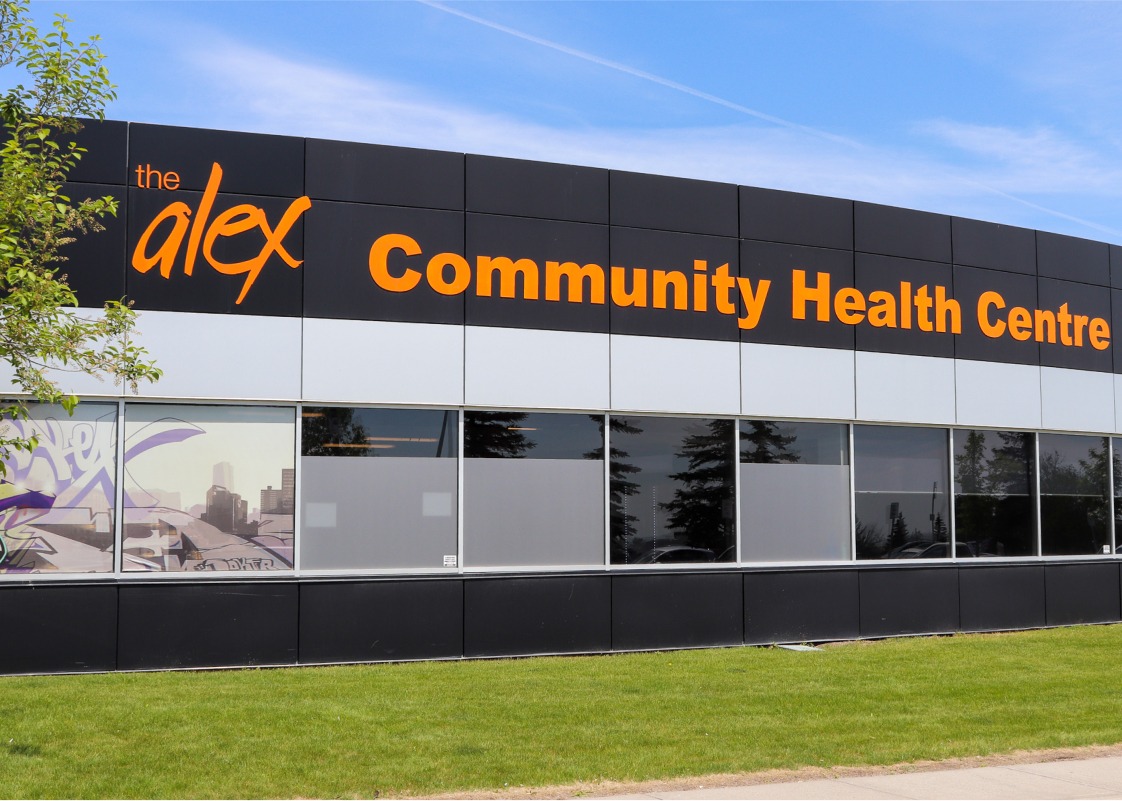 Primary Health Care
We offer accessible, consistent, and caring primary health care to vulnerable, low-income and underserved Calgarians in our three clinics. 
Our Community Health Centre is a full-service health clinic with doctors, nurses and a social team.
The Youth Health Centre is a safe and supportive place for youth ages 12-24 to get health and social care from a trustworthy and caring team.
The Alex Seniors Health Centre welcomes low-income Calgarians aged 60+ without a family doctor.
In 2023/2023 reporting period, we saw 51,700 appointment visits to the health care clinics.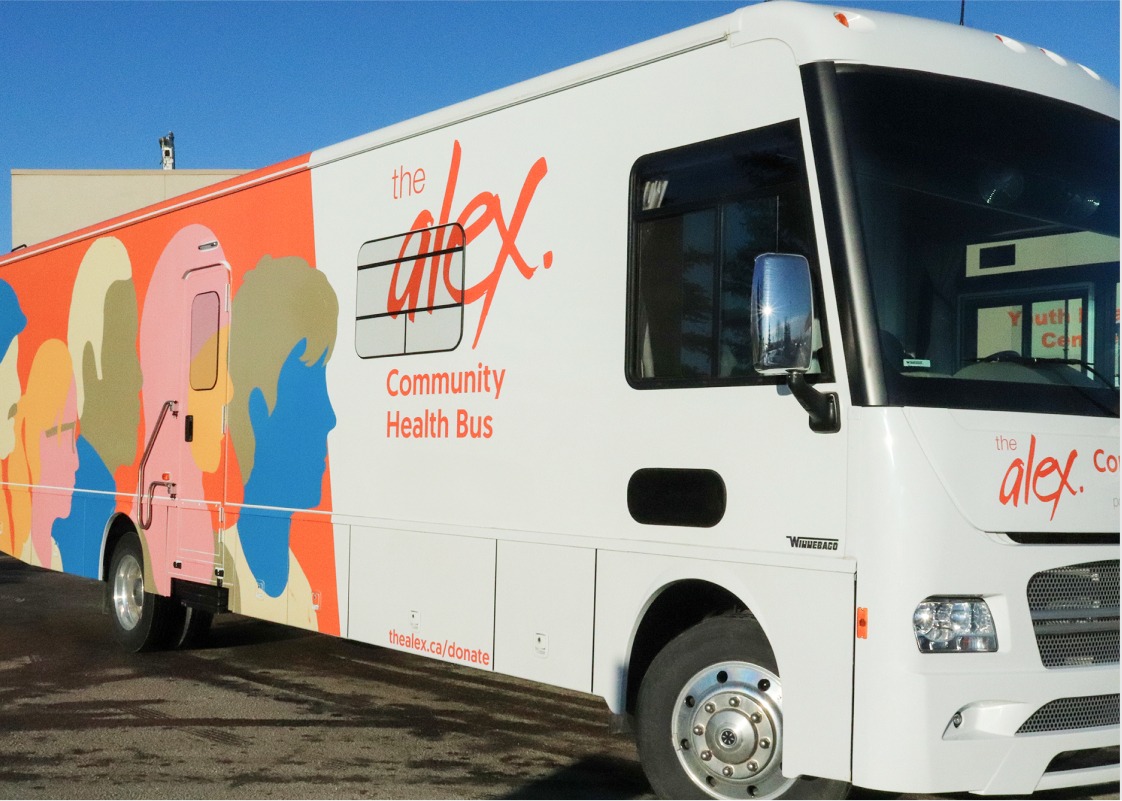 Mobile Health Care
Four mobile buses, including our Dental Health Bus, Community Health Bus, Youth Health Bus, and the TELUS Mobile Care Unit, travel the streets of Calgary,  meeting and serving patients/clients where they are at.
These mobile care buses ensure that more Calgarians have access to judgment-free, dignified health care, leading to better outcomes for individuals and our entire health care system. 
In 2022/2023 reporting period, we saw 7,287 visits to the mobile health clinics.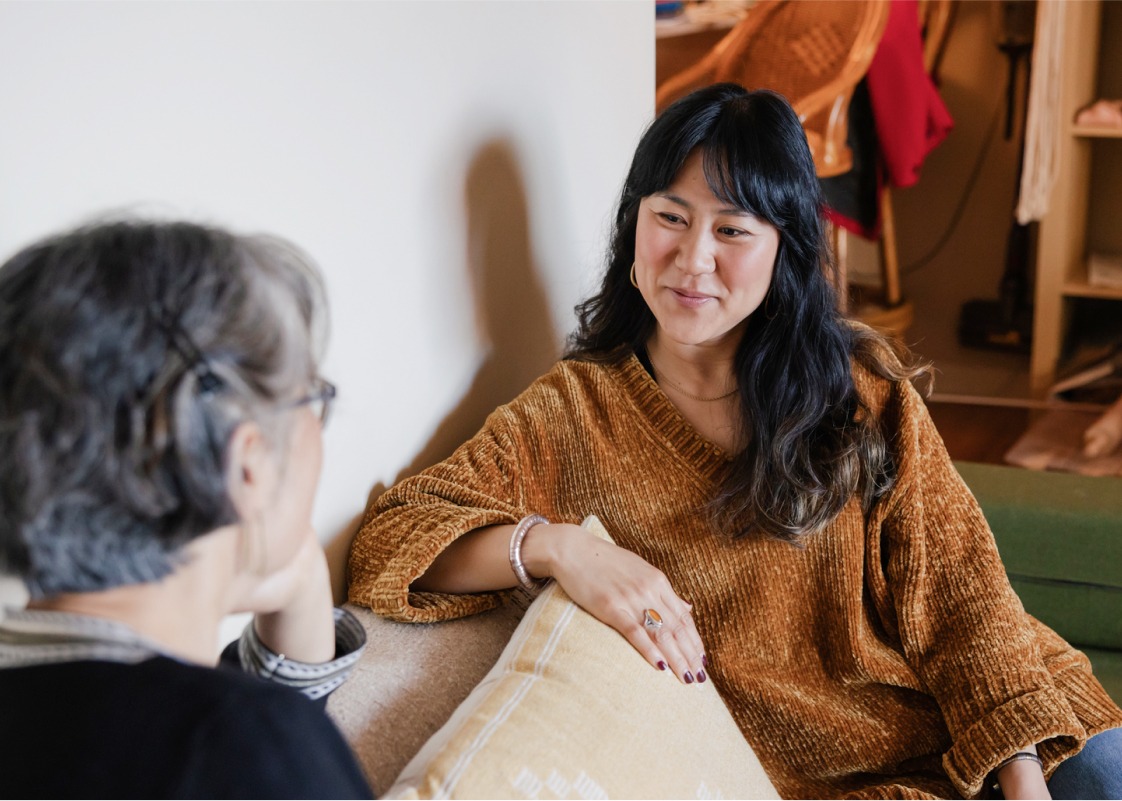 Housing Programs
Calgary's first and largest provider of Housing First programs, we get people into housing and then support their transition from homelessness by providing wraparound care and working on the complex issues that led to homelessness.
Our four housing programs – Pathways to Housing, HomeBase, Abbeydale Place and The Prelude – support more than 400 people who have been chronically homeless. Pathways to Housing and HomeBase support independent living in the community, and Abbeydale and The Prelude provide 24-hour supports.
Along with housing support, we also offer addiction support, pre-employment training, financial literacy, and social activities.
Social Supports & Wellness
The Alex's Social and Wellness programs are integrated with primary healthcare services based on our proven approach to improving health, well-being, and quality of life for those most vulnerable. Counseling, social skills training, life skills programming, fitness, nutrition and food skills are part of  our programming. As well we provide assistance for substance abuse and addictions, and general opportunities for social support and engagement. These all contribute to improved health and well-being for all ages, especially when combined with medical care. 
We offer social work, peer support, justice navigation and a helpful tax clinic, as well as an Indigenous Elder in Residence, the Queer Connections social group, and a drop-in art group.
Our social and wellness programs are available to people ages 18 and up by appointment, or via drop-in at our Youth Health Centre and Community Health Centre.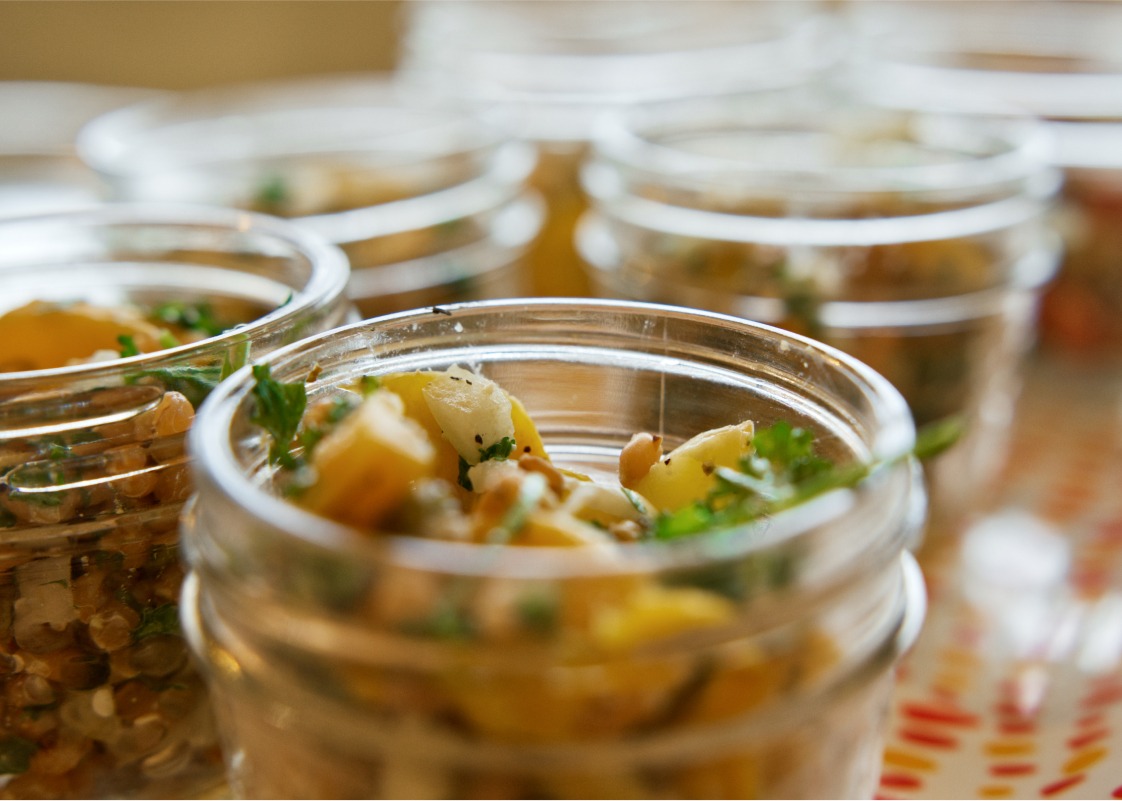 Community Kitchen & Community Food Centre
Good food is just the beginning to a good day, a healthy life and a strong community. We believe that access to healthy, affordable and culturally appropriate food is a physical necessity, a human right, and critical for people to fully participate in society.
The Alex Community Food Centre and the Community Kitchen offer innovative approaches to addressing food insecurity, including advocating for a Universal Basic Income.
The Community Food Centre allows people to come together to grow, cook, share and enjoy a meal.
Every year, our Community Kitchen prepares and serves thousands of warm meals in a welcoming environment.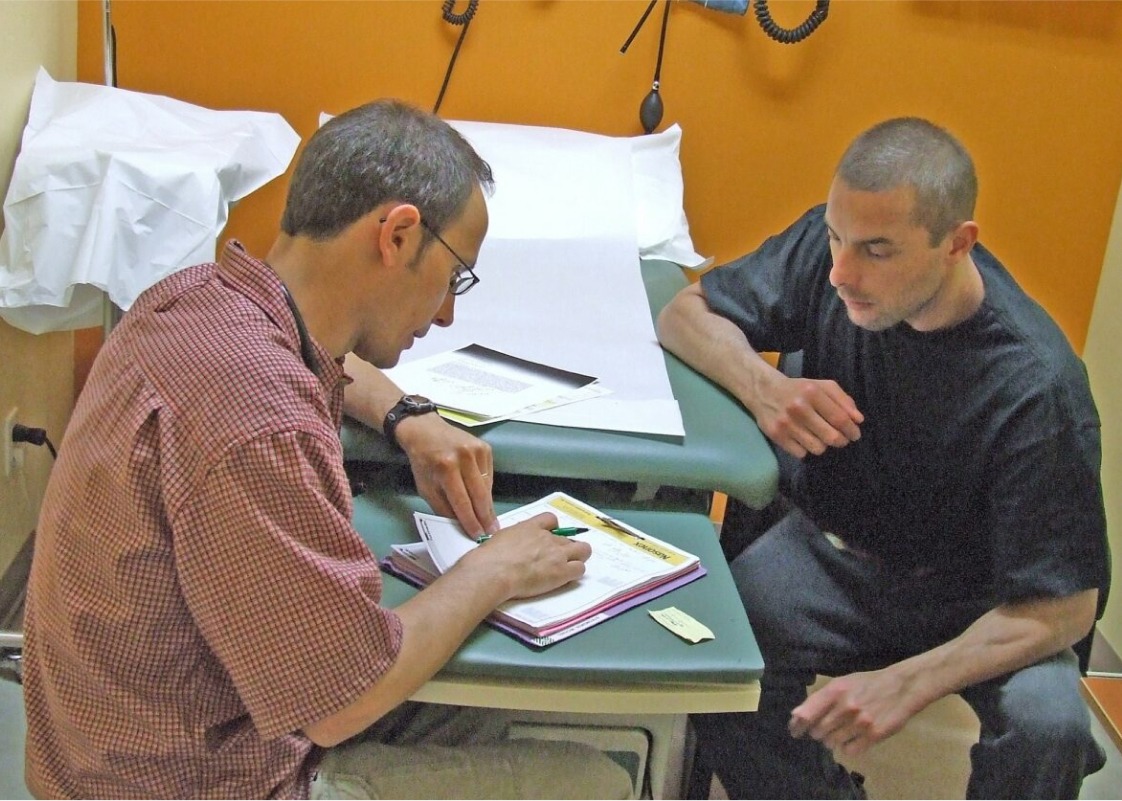 Outreach, Addictions & Mental Health Supports
Compassionate treatment and counseling that meets people where they are: we offer non-judgmental help, including medication, counseling, group support, and peer support.
Our walk-in Rapid Access Addiction Medicine (RAAM) team helps people make changes regarding substance use. We support our clients until they are stable and then connect them to longer-term services.
Our Street Team offers street outreach, including naloxone distribution and training, harm reduction supplies and education, recovery treatment planning and referrals, community resource navigation, and housing support and referrals.
2022-2023
Financial Snapshot
Total Expenses
$30,557,192
Program Salaries and Benefits
Office and Administration
Contribution to Homeless Housing Society of Calgary
Total Revenues
$30,083,460
By the Numbers
April 1, 2022 – March 31, 2023
Primary health care visits
Visits to our mobile health care buses
Unique clients supported by RAAM
Total contacts made by street teams
Meals served at the Community Food Centre and the Community Kitchen
Community members supported through The Alex's housing programs
Special Thanks to Those Who Help Us
YOU are changing lives!  With your support, The Alex has been able to help thousands of Calgarians access vital primary health care, housing, food, and social supports for 50 years and counting. 
Your support is deeply appreciated and there is no limit to what we can do together.
None of this would be possible without the support of donors, partners, funders, and neighbours.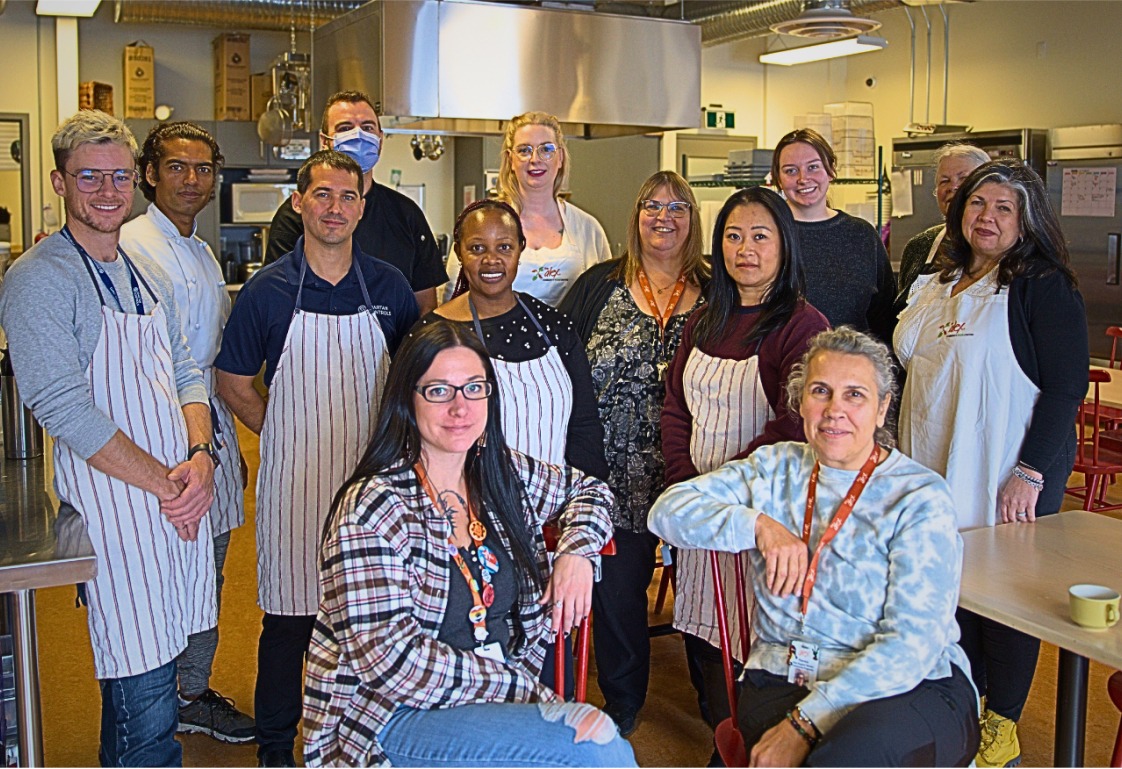 Spartan Controls is a committed friend and good neighbor to all of us at The Alex. Whether they're serving meals in our Community Kitchen, packing Holiday Hope Totes for clients during the holiday season, or hosting employee fundraising events, Spartans are always stepping up to support the work we do here. We are so very grateful.
"We have partnered with The Alex for many years and we are proud to share in their message of hope by supporting their Community Wellness Initiative, which will help some of the community's most vulnerable citizens get the right care at the right time.
Our partnership helps to remind us that we are all searching for the same things: a safe place to live, food on the table, friends and family to support us, and a meaningful way to contribute to society and look after those we care about."
Tammy Gottschlich
Vice President of Operations, Spartan Controls
A dedicated multi-disciplinary team of over 400 Alexeans work at The Alex including medical staff, social workers, mental health specialists, peer support workers, educators, community facilitators, and an outstanding support team.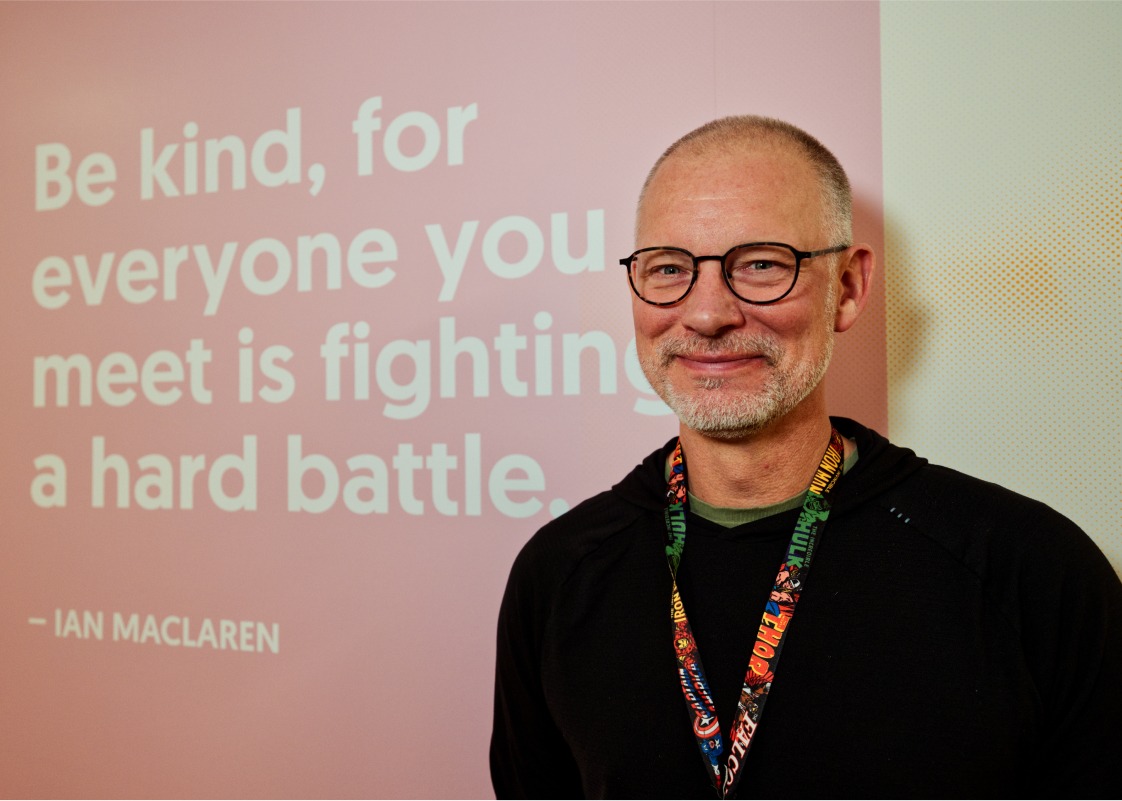 A Meaningful Career Path
Dr. Todd
After a career in medicine and a serendipitous moment, Dr. Todd set on a new path working with The Alex that is personally meaningful.
"It's about being a trusted friend and somebody that people can count on."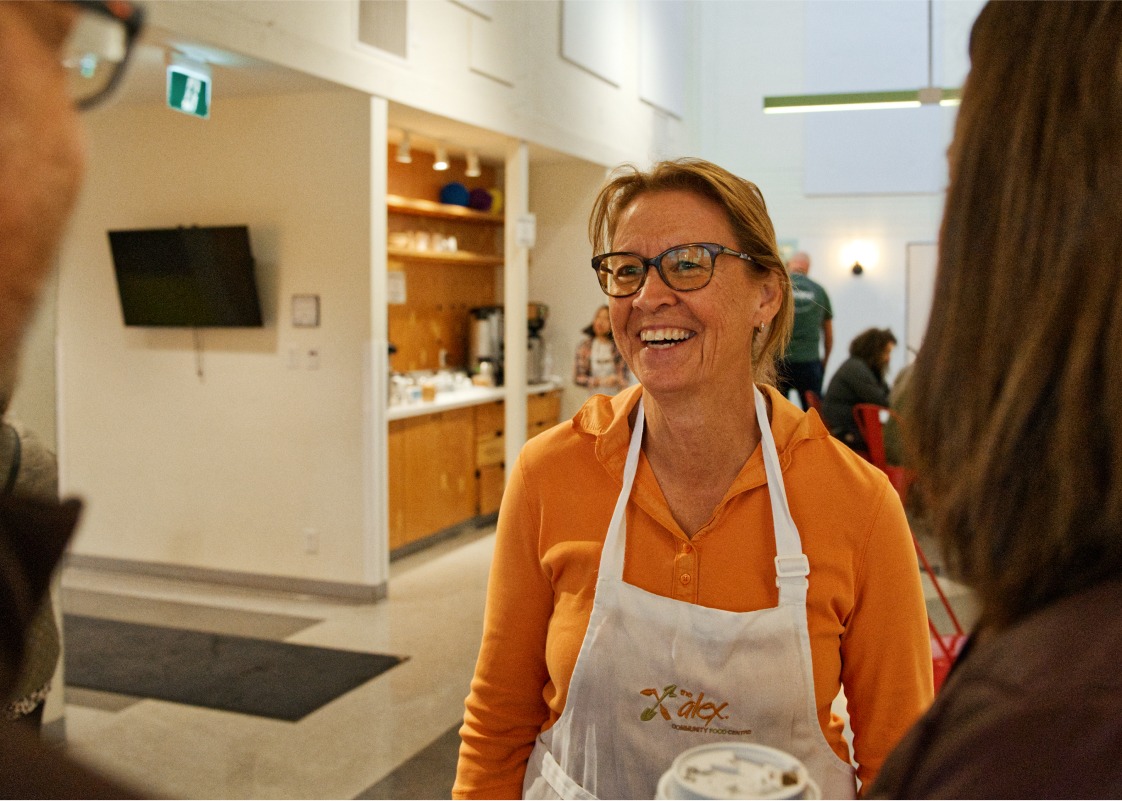 A Valued and Respected Volunteer
Millie C.
The Alex's food center is part of a national movement to develop places where people can gather to grow, cook, share and advocate for good food.
"I've stayed all this time in part because, as a volunteer, I feel valued and respected. That feeling carries through to the clients we all serve."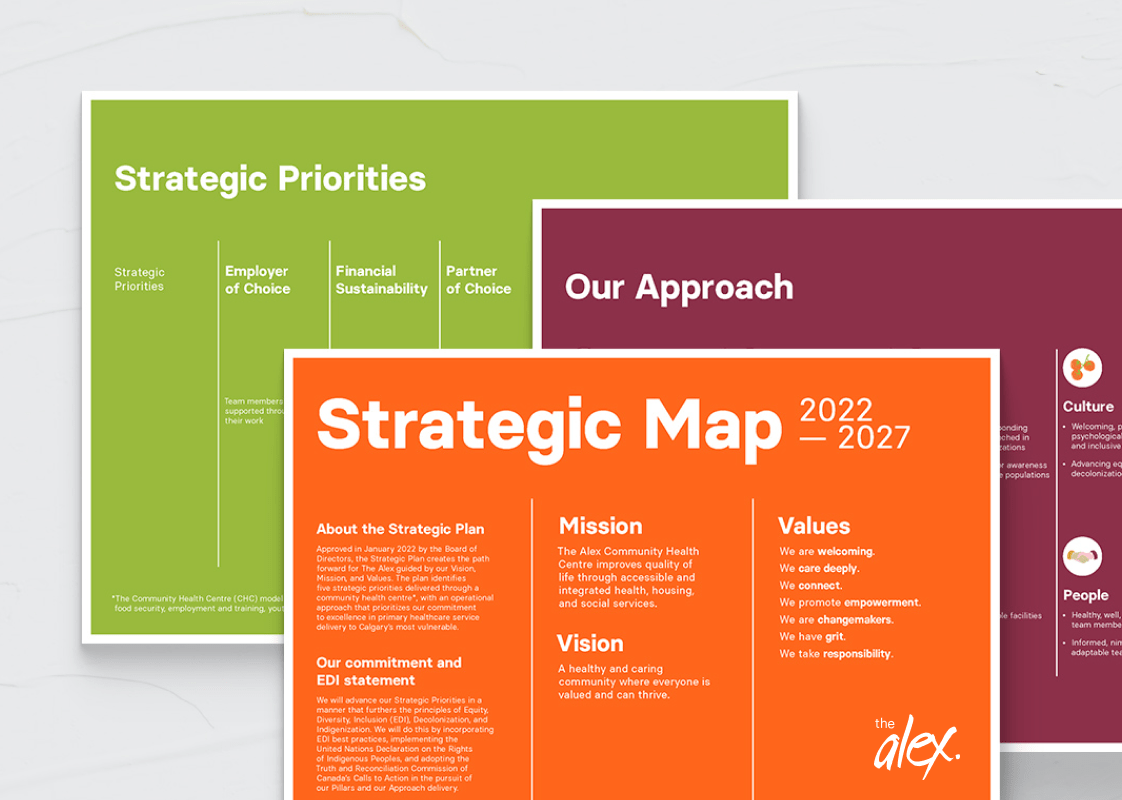 Approved in January 2022 by the Board of Directors, the Strategic Plan creates the path forward for The Alex guided by our Vision, Mission, and Values. The plan identifies five strategic priorities delivered through a community health centre, with an operational approach that prioritizes our commitment to excellence in primary healthcare service delivery to Calgary's most vulnerable.
Read more about our strategic map.
We are part of something bigger!
Community Health Centre Model of Care
Through our mission and vision, The Alex will become a Centre of Excellence for Patients and Clients and will lead and advocate for an integrated Community Health Centre model of care in Alberta.
The Community Health Centre (CHC) model of care delivers integrated, interdisciplinary services and programs with a focus on healthcare, housing, food security, employment and training, youth services, seniors' services, and more, in a community-governed, non-profit service model.
Together, there is nothing but possibility.
We can strengthen our community. We can tackle tough health and social issues, walking alongside people from crisis to wellness and from challenge to change.