In May 2021, The Alex hosted it's first ever Stuff the (Mobile Health) bus at the Genesis Centre!
Since the start of COVID-19, we've seen a continued increase in need for our services and for basic needs such as clothing, hygiene items, and activities to pass the time in isolation.
Our Assisted Self-Isolation Site was among the programs who expressed a need for these items, as it provides temporary isolation for Calgarians experiencing homelessness after being exposed to COVID-19.
So, we decided to host a donation drive, and encourage the community to help us stuff our bus!
It was a warm, sunny day on May 15, as dozens of businesses, families, and individuals generously dropped off donations at our Community Health Bus parked outside Genesis Centre in northeast Calgary.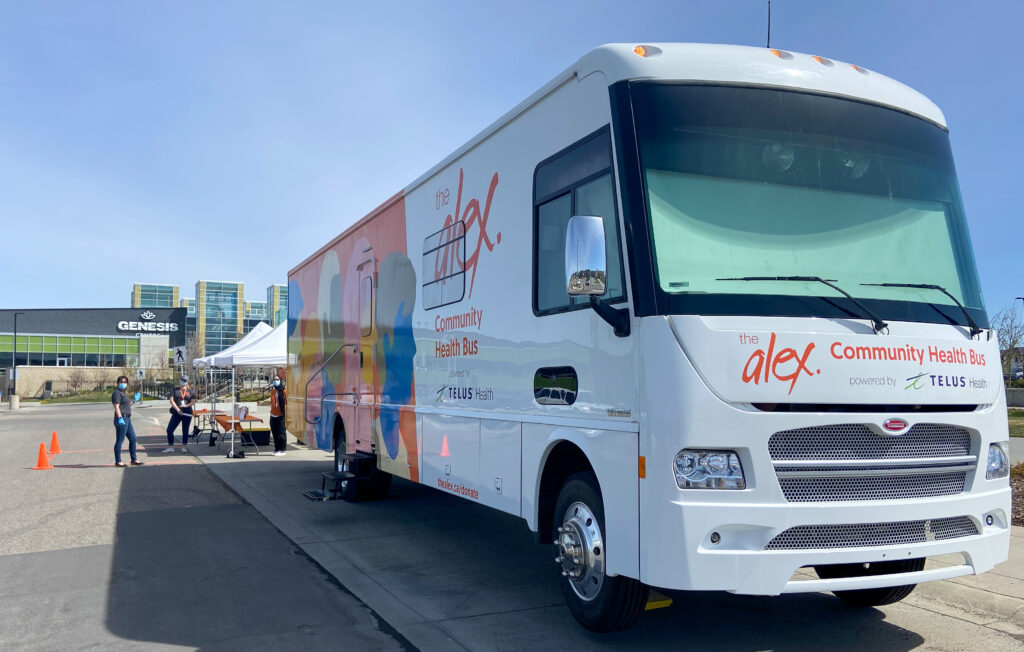 The Alex operates three mobile health buses, the Youth Health Bus, the Dental Health Bus, and the Community Health Bus.
All three travel to different locations throughout the city to provide accessible health and dental care to underserved children, youth, and adults by meeting them where they are.
To learn more about our mobile health program, click here.
Of course, by mid-May, Alberta was experiencing record high numbers of COVID-19 cases as a third wave of the pandemic barreled through the province. At the donation drive we were sure to implement contactless drop-off, wear all necessary PPE, prevent more than 5 people from gathering in the space at one time, and ensure all items were properly quarantined.
In a non-COVID world, we would have been able to welcome many more visitors, add music, food, and fun celebration of each donation. With the success of this event, we plan to re-create it in the coming years – so keep an eye out for that!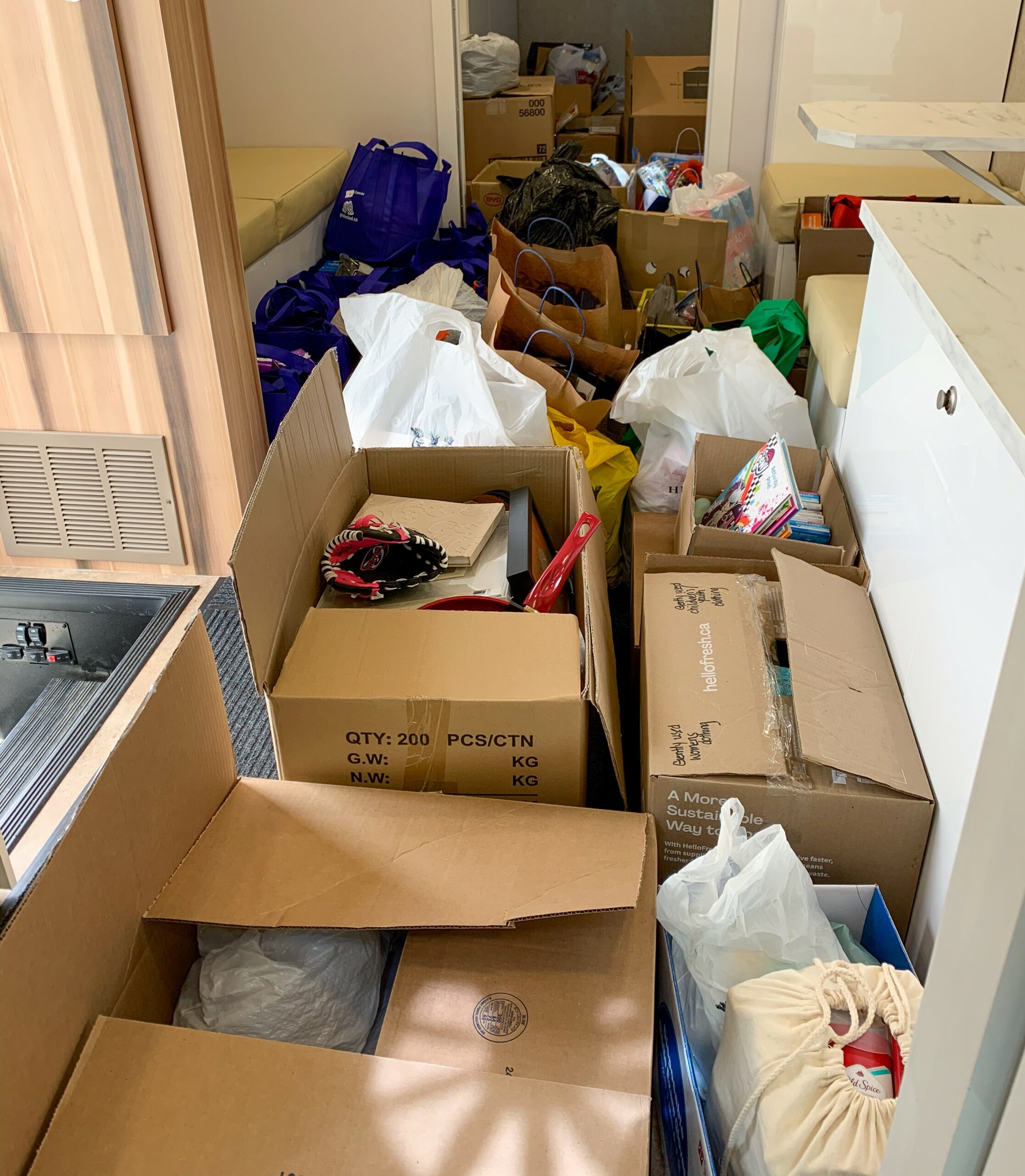 After a final count, we are thrilled to report that we received 5184 items, with the value being estimated at $59,000 ($10,000 excluding a large donation of 87 boxes of women's jeans from The Magic of Christmas!)
Close to $2,000 was raised in cash donations.
Among the items received were new clothing, underwear, socks, pajamas, soap, shampoo and conditioner, menstruation products, notebooks, puzzles, paint sets, some PPE, and even a wheelchair!
One of the most notable successes from the event was how many children participated. Several parents and group facilitators brought kids to demonstrate the importance of giving back and helping others. It was truly heartwarming to see the next generation of Calgarians being taught important values of community care and responsibility.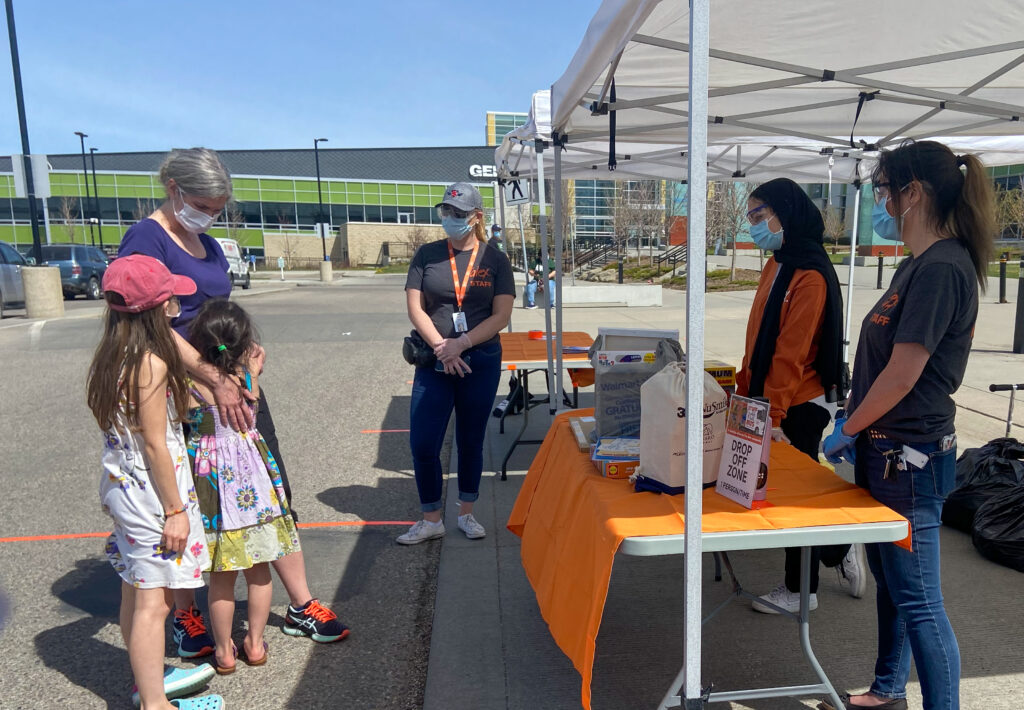 On behalf of our team and the community who will receive these items, thank you to all who took the time to contribute to the drive.
We are always so amazed by the generosity of Calgarians, and are grateful to be part of a community that works hard to take care of those most in need.
---
Missed the event, but still want to support?
Make a donation online and help us continue supporting community with basic needs.