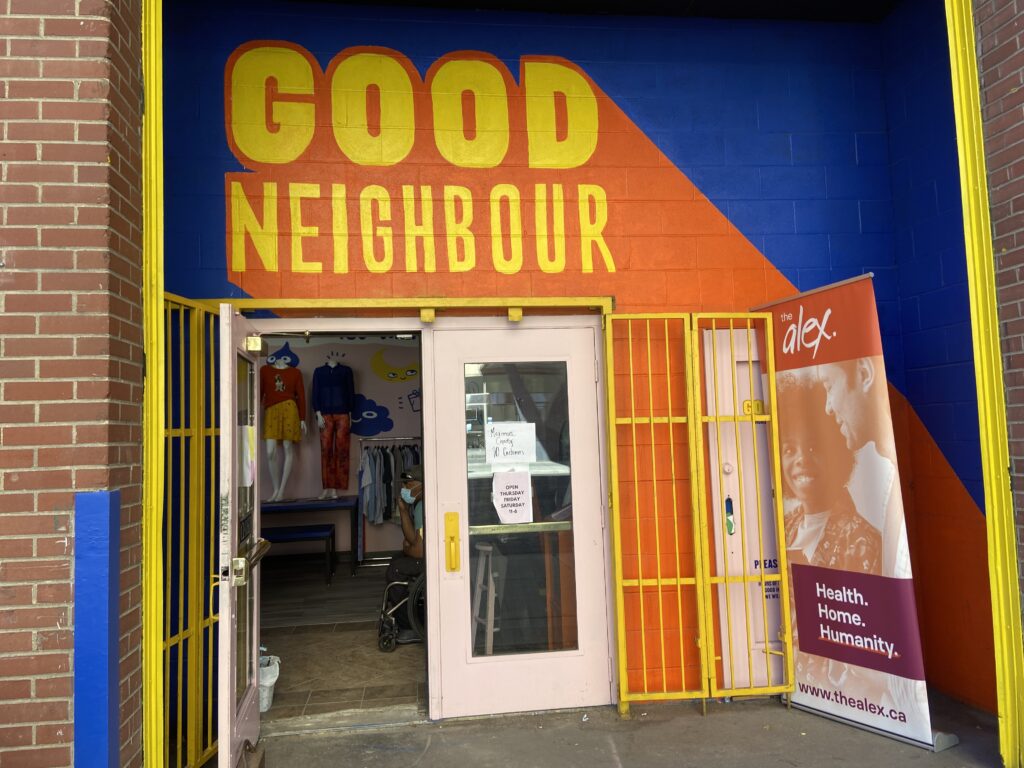 What do a community market and an outreach team have in common? In the case of Good Neighbour and The Alex, it's a shared goal of providing access to basic needs and dignified spaces.
What is The Alex Street Team?
You might've seen them walking around downtown in bright orange vests – The Alex Street Team is an extension of the organization that provides outreach to Calgarians who are experiencing homelessness, low- or no-income, transience, and/or substance use.

"It's important to be where folks are, because of the barriers that they experience in getting to The Alex. Perhaps they're using substances, don't have transportation or are afraid of being judged. So we're out there, boots on the ground, talking to people, letting them know we're here to help them achieve whatever goals they have, whether it be detox, treatment, housing, health care, or whatever else." says Jake, a Peer Support Worker with The Alex Street Team.
Even small barriers can prevent this community from accessing the services they need, so The Alex Street Team aims to provide 'zero barrier care' by being in the right place at the right time.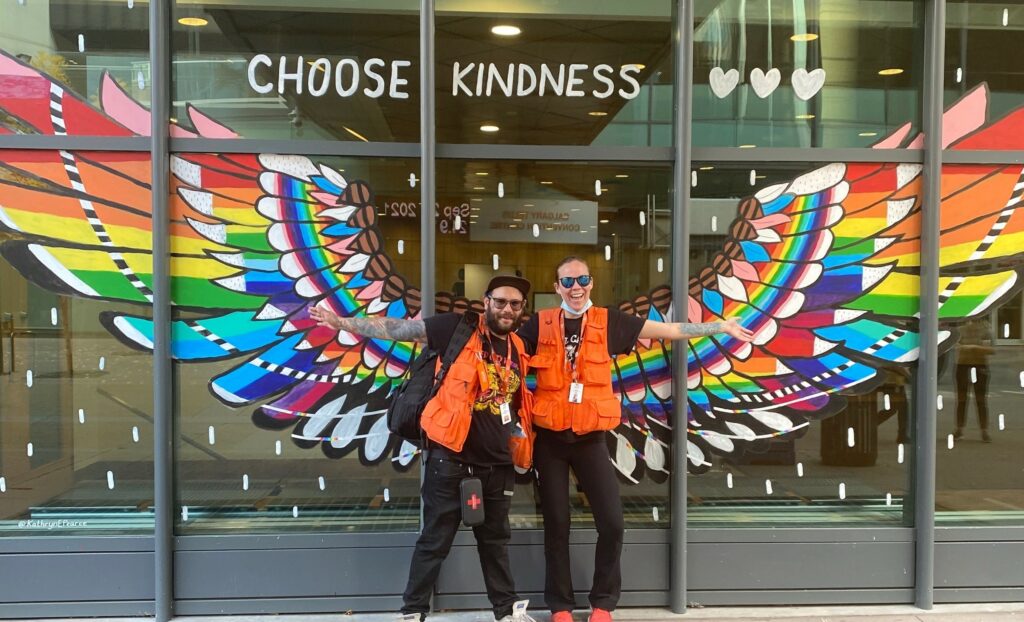 With the winter months rapidly approaching, it's not practical or safe to be conducting assessments or referrals out in the freezing cold. This kind of paperwork can take up to an hour and it can be heavy, intense stuff, so it's ideal to have somewhere warm and private to sit down, have a coffee and talk. But by nature of being outreach, the team didn't have access to an indoor space downtown – until recently.
"We toured [Good Neighbour] and were invited to use their space as a central hub to base lots of our outreach activities from. They are also providing a confidential space to conduct assessments and complete service referrals." – Sebastian Benavides, Team Lead
Street Team, meet Good Neighbour!
What started as a small community-fridge program has blossomed into a massive project lead by 6 community-minded women in downtown Calgary. Good Neighbour is Calgary's first pay-what-you-can thrift store that recently opened on 5th Ave. But it's not just clothing – Good Neighbour provides access to non-perishable food, books, and even houseplants to Calgary's downtown community. It's a judgement-free, open, bright, and dignified space for those who are most in need but don't feel welcome or can't afford other shops.
"We all got together with a shared vision of a community space, and now we're completely volunteer-run, with 60 people helping us out. We have a very supportive community" – Lauren, co-founder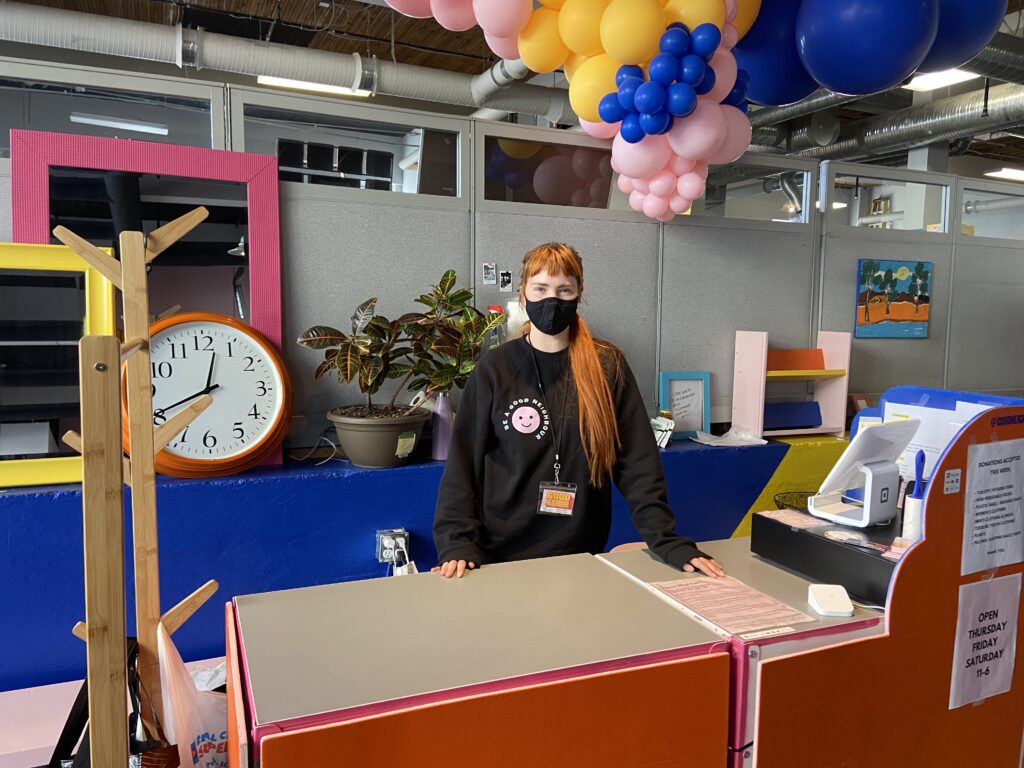 A partnership is born
On a busy Thursday afternoon, Jake and Carlos from The Alex Street Team are seated at the entrance of Good Neighbour. They've got brochures, naloxone kits, and kind smiles ready to welcome visitors who may be there for clothing but could leave with a treatment referral or naloxone kit.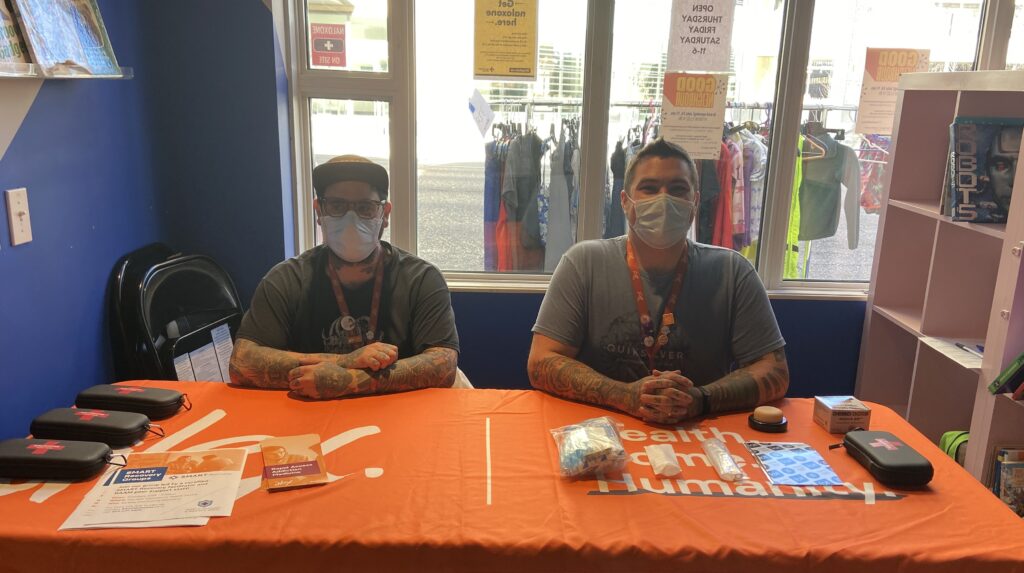 "So when folks come in we can give them safe use supplies and provide education on how to use them. We can even provide official training for naloxone administration on the spot. We share information about other Alex programs like Rapid Access Addiction Medicine or our Smart Recovery Group, and we can do housing assessments or provide treatment and detox referrals right here, right now. Basically whatever the person says they need, we do an intake and we work for them. If we don't know how to do what they need, we find out," Jake says.

Several members of The Alex Street Team including Jake are "Peer Support" workers, which means they have personally experienced some of the challenges our clients are struggling with, such as addiction, homelessness, and poverty.
"I come from a background of substance use, homelessness, I was on the street for years. I started working in housing programs in BC but my passion is getting out there and supporting folks who are going through things that I've gone through. Other folks have helped me get where I am today, so if we can get out there and do that for others and help them achieve the goals they set for themselves, that's what it's all about."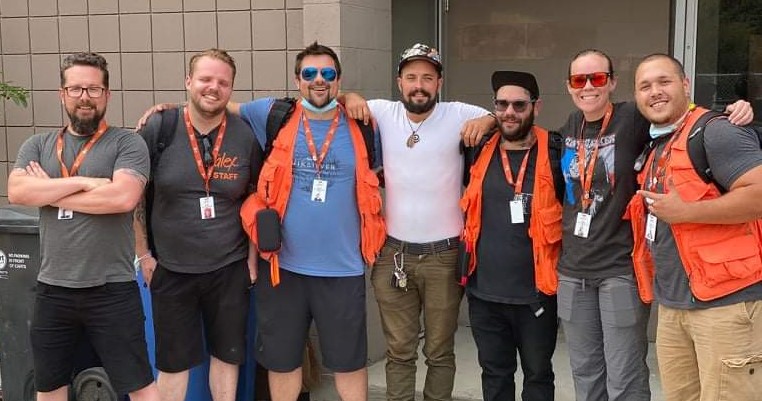 Good Neighbour's vision for the future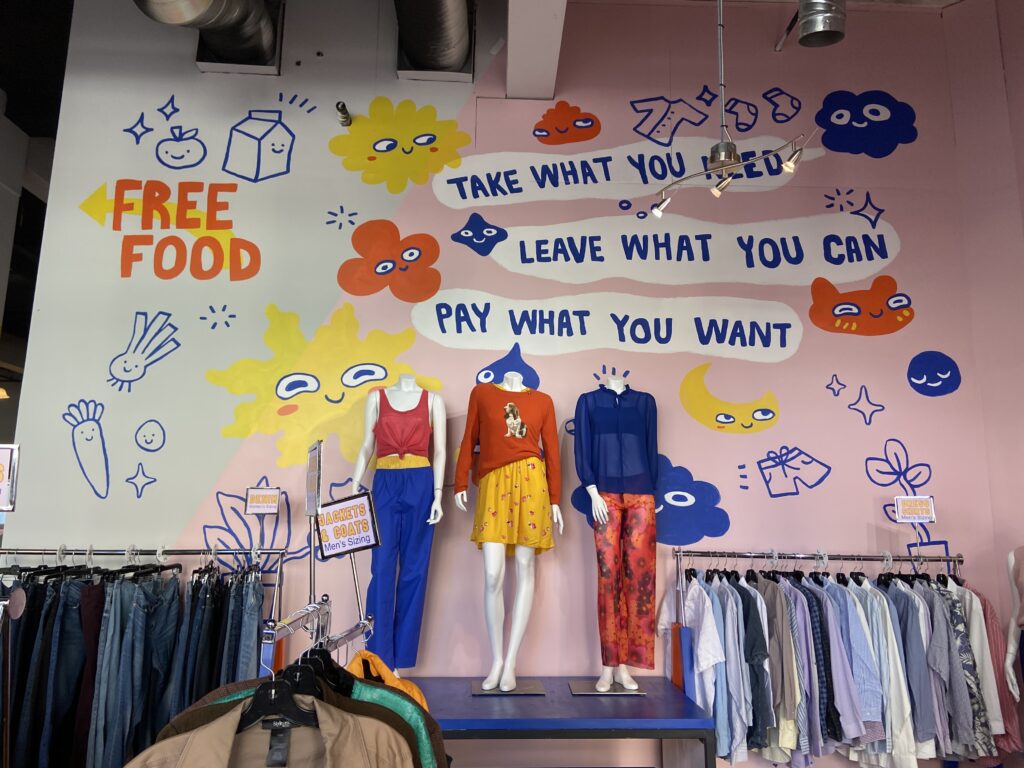 The Alex is the first of hopefully many more partnerships Good Neighbour forms with non-profit organizations in Calgary. Their dream is for the space to become not just a hub of supports, but of engagement, gathering, and fun with music programs, art classes, and more.

But for now, The Alex is here every Thursday afternoon doing the best work they can.
What can you do?
Good Neighbour is always seeking donations, but now more than ever, they're looking for winter items like toques, gloves, boots, coats, etc. You can drop off items Thursday, Friday, or Saturday between 11am-6pm at 149 5th Ave SE.