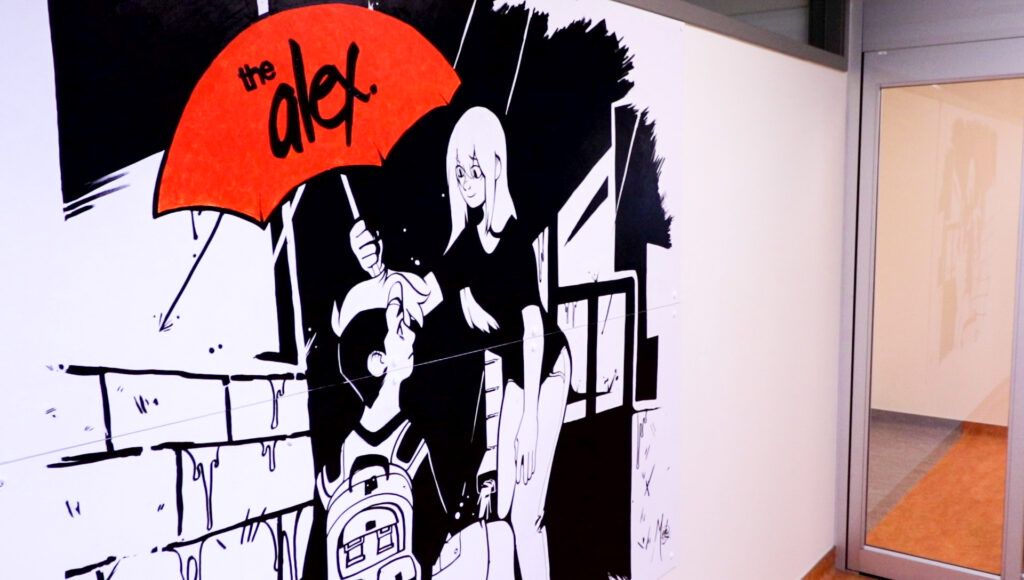 Social work is an essential part of the work we do at The Alex, and we are incredibly grateful for the amazing staff that we have. March is Social Work Month, so we sat down with Rachel Reichert, one of the Case Managers at The Alex Youth Health Centre to talk about her introduction to the field, and some of the services that we provide.
Can you provide a brief overview of social work at The Alex Youth Health Centre?
At the Youth Health Centre, we have three social workers and a child youth care counsellor. We offer a wide range of services, mostly divided into two streams: case management and drop-in.
With our case management, this means that we each have a dedicated caseload of youth who check in on a regular basis. We're here to help them set goals and meet goals related to housing, employment, life skills, etc. All our case management is youth-led. This means that only youth who want to engage in services do so; we do not force or mandate our services on anyone.
We also have drop-in hours, that happen on weekdays from 12-5 PM. Youth aged 12-24 can just drop in for basic needs support (i.e., Hygiene, food, applying for income support, or we can also assist with some crisis support). In many of these cases, we refer to our medical team at the YHC, or they come seeking our support with social concerns that their patients might have.
We also have various groups that youth can join after drop-in hours. We have a DND group, Queermunity, Indigenight, and a leadership and mentorship group (In the Lead) that we run in partnership with Calgary Youth Justice Society. We see a lot of repeat clients during drop-in hours, though we often have our fair share of newcomers that hear about our services from their peers.
What's the Youth Health Centre's Case Load? How would someone gain access to case services?
Across all the social workers, we are case managing between 20-30 youth each at any given time. and we don't have a waitlist for social supports. If someone wants to access these supports, we meet them where they're at and provide the services that they want. The best way to access longer term case management is by attending drop-in hours; one of us is always available to support or have a bigger conversation surrounding goals and other concerns.
Our focus is supporting youth to build skills and meet their personal goals. We aren't in the business of doing things FOR people, but supporting them to get to the point where they can do things for themselves. We try as much as possible to support so that young people no longer have to access services after they age out of the Youth Health Centre, but we will also connect young people to adult services including the Community Health Centre if needed. At times, we also give references and referrals to other organizations when someone requires more specialized care.
Who are some common organizations that you refer to if individuals require more specialized services? Are there any partner organizations?
We've been seeing a lot of newcomers to Canada, and often refer them to Centre for Newcomers or Calgary Catholic Immigration Society, due to the specialized funding and support that these organizations can receive. Also, although our services begin at age 12, the counselling services we provide start at age 16, so sometimes we refer out to places like the Children's Hospital when services for folks under 16 are requested.
Much of what we also do is system navigation, which includes helping young people to access other resources available to them in the city, do their taxes, or apply for identification documents. Our goal is to help young people to navigate and understand the often-daunting social service systems that exist and help them get the government supports they need.
Prior to the COVID-19 Pandemic, we had partnerships with a few other institutions, such as the Elizabeth Fry Society, and the Calgary Public Library. It is our hope that soon, we can look at partnering with other institutions again as we know that young people tend to engage more when they can access a multitude of services under one roof.
What made you decide to go into social work and what influenced your choice to work at The Alex?
My undergraduate degree is in Psychology, and I've always had an interest in adjacent fields. I started off doing admin work, but it wasn't where my passion really was. Someone recommended social work to me, and I decided to go back to school and do the diploma at Mount Royal University. That was five years ago. Though I still have a drive to pursue psychology and will be starting my Masters' in the Fall, I've found social work to be deeply rewarding. I like to help others improve their lives, so a helping profession will always be the right fit for me.
I chose The Alex because I did my first practicum here, and I really enjoy working with youth. All in all, it seemed like a natural fit as I can practice as a social worker in a place that aligns with my professional ethics and values. It is also really fun!
What do you enjoy most about social work? What do you see as the biggest challenges that you have to face?
I really enjoy working with young people to help them realize their potential, and I think that there's a lot of hope there. I enjoy social work in particular because I get to play a role in helping others improve their lives and advocating for systems change.
For challenges, I think that accessibility is something that can be difficult. Sometimes changes in best practice happen a lot faster than actual policies do and it can be frustrating to see the impact that these larger systems have on our clients. For example, some of our clients don't always meet the exact qualification threshold for certain programs, and as social workers, it's our job to advocate for them and push for that systems change.
What would you want the biggest takeaway for Social Work Month to be?
I recognize that social work has colonial roots and has done a lot of harm to racialized groups through the foster care system and residential schools. It is up to social workers today to unlearn those harmful roots and to construct better ones. We must operate from the perspective that our clients are the experts in their own lives and that we can't assume that we know the best answer for them. We're not meant to do things for folks, but rather to help them figure out what it is they want to do and help them achieve it in the way they want.
The work can be incredibly challenging and emotional, but I believe that it is up to me to me and my colleagues to push for education and changes and help people to understand WHY social work is essential. Social workers can have a variety of different roles, and I believe the profession is taking steps towards a much better future.