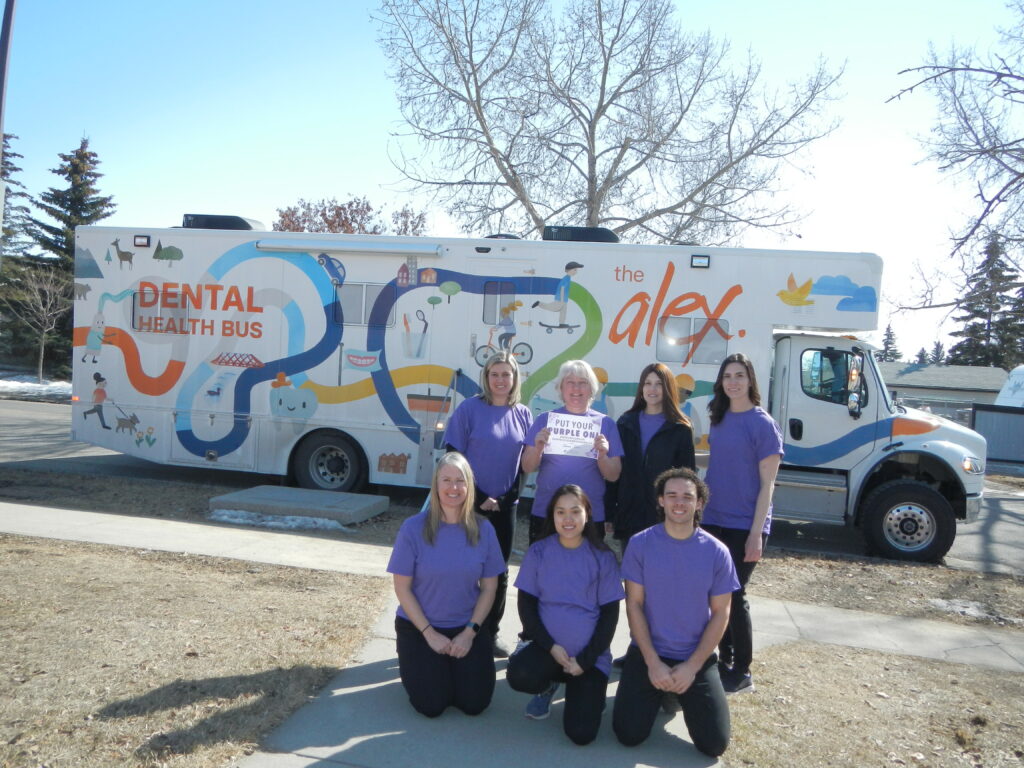 Oral Health is an occasionally overlooked part of overall physical well-being. In honour of Oral Health Month, and Dental Hygienist Week, we had a discussion with Shannon, our Oral Health Team Lead about her journey, oral health, and the ways in which The Alex's programs provide support to vulnerable populations.
Can you talk a little a bit about what made you decide to go into this line of work? Why The Alex?
Well, I always wanted to be in the dental industry, and I loved going to the dentist when I was younger. I chose hygiene because I connected with the health benefits and prevention side of things. I landed at the Alex because in 2013 I participated in a study that involved visiting schools all over Calgary to check kids' teeth, and what I saw broke my heart. There was so much untreated decay and kids in pain which I had never seen as part of my private practice experience… and that made me want to go into community oral health.
Tell me more about what a dental hygienist does?
Dental hygienists are essential primary health care providers who work in a variety of settings, helping people of all ages to develop good daily oral hygiene habits. They also offer preventive treatments such as scaling, dental sealants, and fluoride. They can also provide dietary recommendations and even do oral cancer screenings. Most dental hygienists work in private practice settings alongside dentists. I feel very privileged to be one of the lucky ones working in community oral health.
What's the connection between full body health, and oral hygiene?
There is a strong connection between oral health and overall health. In fact, the theme for this year's National Dental Hygienist's Week is, "Oral Health for Total Health". Your oral health contributes to various diseases and conditions, including heart disease, pneumonia, and pregnancy and birth complications. Certain conditions may also affect your oral health, like diabetes, HIV/AIDS, and osteoporosis.
Can you tell me a bit about the oral hygiene services we provide at The Alex?
Our Dental Health Bus team visits elementary schools and does screenings, fluoride varnishes, and sealants, which are protective coatings on permeant molars. They also offer full hygiene treatments at community sites once a week to children and youth ages 6-24. We also see clients over the age of 24 if they are connected to a provider at The Alex CHC.
The Preschool team offers preventative services at daycares, preschools, and community sites using portable dental equipment to children ages 3-5. We are piloting the preschool program hoping that if we catch them earlier, we can prevent the high rates of decay we see if school aged children. Also, sadly the #1 reason for day surgery in Canada is dental surgery and this is completely avoidable with education and early prevention.
The entire Alex Oral Health team is made up of 4 dental hygienists, 2 dental assistants, and 1 driver/ resource specialist. Each team member plays a unique and important role in supporting our clients and families with their dental needs.
What are some of the biggest oral health challenges?
In my experience, the biggest by far is access to care. Most of the clients we see are unable to visit the dentist because they don't have insurance or the financial means to pay out of pocket. As we all know, dentistry is expensive, with Alberta having the highest fees in the country. Other challenges include lack of education as to the importance of regular dental care, and fear of the dentist.
What is a key prevention measure that you think everyone should know?
Along with good oral hygiene habits, the number one thing is to limit juice and other sweet drinks. When you do have a sweet drink or treat, try to have it with meals and finish it as quickly as possible. Savoring it over a longer period drags out the acidic levels of your mouth and increases the risk of cavities.
What do you think is the biggest misconception about oral hygiene?
That baby teeth aren't important because they are just going to fall out. They are actually very important as they help with speech development and hold space for the adult teeth. If baby teeth are extracted or fall out to soon due to decay, the adult teeth will erupt crooked and out of alignment.
What's something you'd like people to know on for Oral Health Month and Dental Hygienist Week?
Just to reinforce this year's message… that oral health is connected to total health. So, let this be a reminder to see your dental hygienist regularly. Oh, and of course, always remember to floss (at least the teeth you want to keep!).