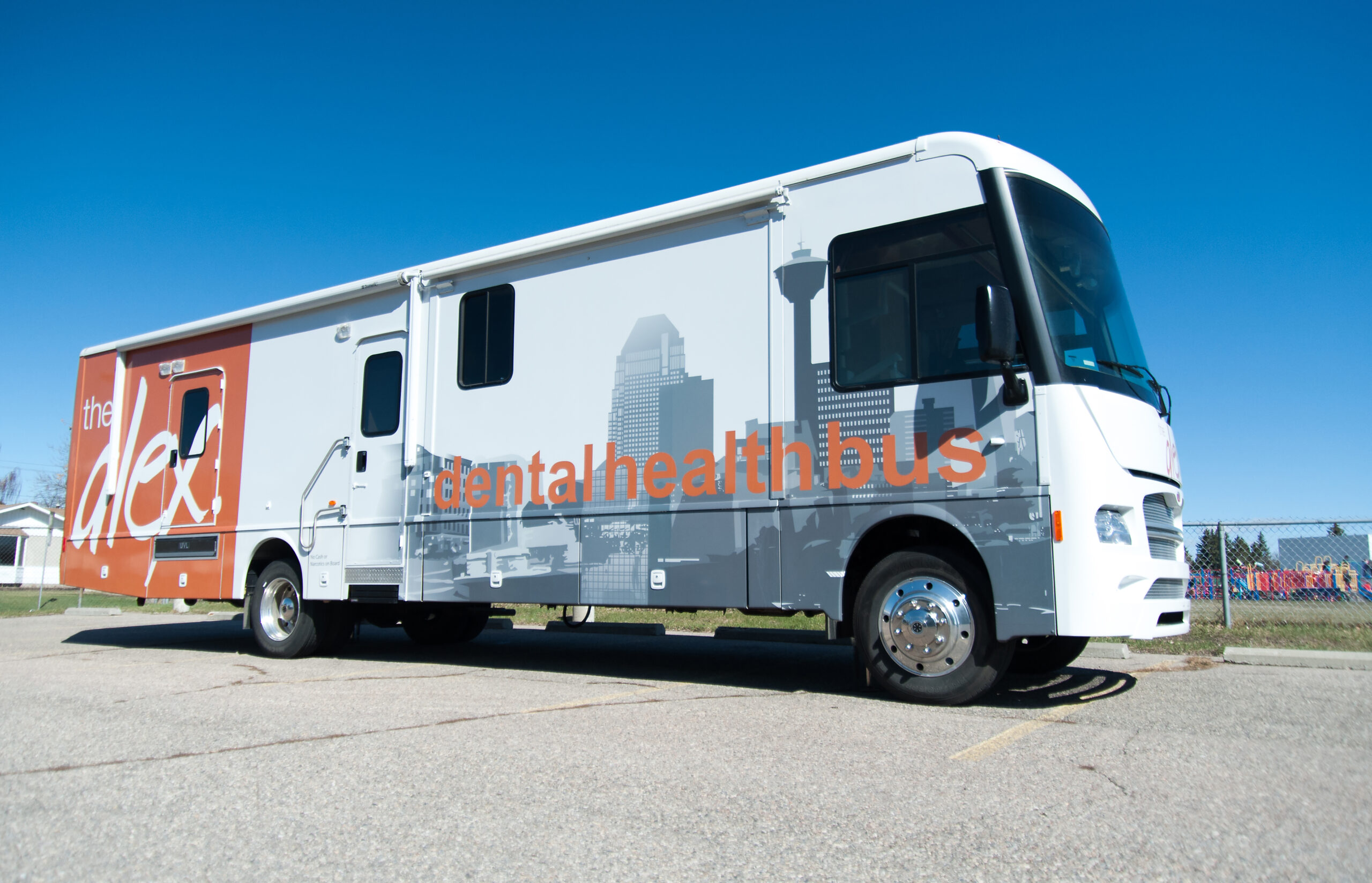 The Alex Dental Health Bus visits underserved communities in Calgary, educating kids ages 6-24 on the importance of oral hygiene and providing preventative dental services. Many who use the program are low-income, non-insured or underinsured, and shoulder the greatest burden of dental disease in our community.
We take action because we know that dental health problems often lead to chronic pain, infection, lowered self-esteem, and compromised performance at school. Dental health problems are also linked to other serious health issues.
The effects of COVID-19
Despite the virus, the team has continued to provide this vital service, which is needed now more than ever with many parents out of work, uninsured, and unable to pay out-of-pocket for dental care for their kids.
While there are negatives in the pandemic reality we're facing, one of the "COVID wins" the Dental Health team has identified has been the shift to a virtual platform for education presentations. Whereas pre-pandemic, our dental hygienist would physically visit classrooms in Calgary's highest needs schools, she can now virtually "visit" multiple classrooms in one morning. This means she's able to educate more kids than ever on how often to visit a dentist, what a cavity is and how it's formed, good habits for brushing and flossing, and healthy food and drink choices.
The Dental Health Bus also started temporarily serving Grade 1 students this year at elementary schools. This age group is normally treated by Alberta Health Services public health hygienists, but they were redeployed to COVID-19 swabbing sites, and were unable to visit schools.
Despite rigorous new protocols, the Dental Health Bus managed to serve the same number of students per day at schools as it did pre-pandemic. Service demand persisted, permission slip response rates were high, and families were eager to receive support. This need is expected to persist and grow in the wake and recovery period of the pandemic.
Dental Health Bus School Program Statistics Summary
September 2020 – June 2021
1,997
students received oral
health education
923
students were screened
45%
of students had active,
untreated decay
34%
of those with decay
were considered urgent
The long-term strategy for improving dental health
The goal of The Alex Dental Health Bus is not just to educate and provide preventative care, but to also act as a bridge to help families find dental "homes" in their community.
So, behind the scenes, the team has been building an innovative new referral system with dental offices across Calgary called the Dental Access Network (DAN). The highly collaborative system aims to ensure kids with the most urgent needs are taken care of before needing more expensive emergency care.
The DAN aims to ensure no Calgarians fall through the cracks of the dental system, but rather they can access immediate care and be given help finding a dental home for regular check-ups and cleanings.
"The goal isn't to have people rely on us – we are here to educate, prevent and recognize dental problems in the short term, and help build relationships between dentists and the community in the long term" says Dental Health Program Lead, Shannon Hawryluk.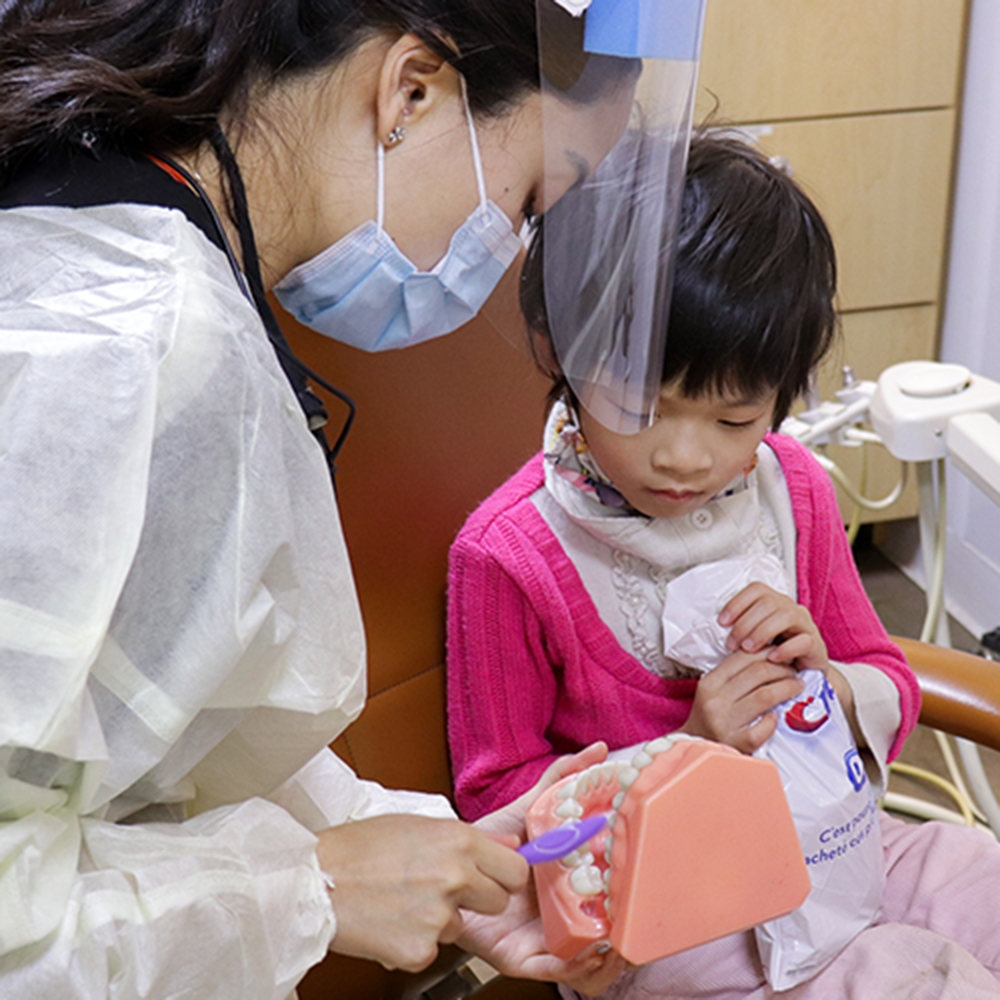 The fluoride debate
Fluoride was removed from Calgary's water in 2011. This year City Council announced a plebicite will take place during the municipal election on October 18th inviting Calgarians to vote yes or no to putting fluoride back in the water.
The conversation around water fluoridation may have resurfaced in Calgary, but it's been part of our daily work on the Dental Health Bus since the program started in 2013. Our staff see the effects of deficient public dental health measures on kids every day.
Our data continues to tell a troubling story – that 45% of the kids who come on the bus have cavities – and that's not existing fillings, but ongoing active decay. Additionally, 34% of kids that have active decay are considered urgent, which we define as having pain or an infection.
The Alex believes that fluoridation is an equitable way to ensure every Calgarian has access to a base level of preventative dental health care. However, we know that this does not replace the importance of affordable access to dental care for everyone. Universal Dental Benefits would truly have the greatest impact on public health.
"If you think of it like a pie chart, fluoride [in the water] is just a piece of the pie. Education is a piece, nutrition is a piece, topical fluoride that you get at the dentist is a piece, and of course access to dental care. We are in support of fluoride, yes, but we're also in support of universal dental care for all. Without either one, we're out here on the ground doing the best work we can in the meantime," Says Hawryluk
Learn More
History of Fluoride in Calgary
Community Water Fluoridation: A Report for City Council (University of Calgary)
Alberta Dental Association & College
Alberta Health Services: Water Fluoridation
Alberta Health Services: What does science say?
The Canadian Association of Public Health Dentistry position statement