Calgary, AB – The Alex is thrilled to announce that it has entered into a new partnership with McLeod Law LLP. We know it is the unique human experiences and social and environmental factors that shape people's health. We also recognize there are challenges associated with navigating the justice system. Partnering with McLeod Law, a Calgary-based firm who shares our spirit and values, reinforces our ability to make a direct positive impact on the city and its community members.
Through this three-year partnership, McLeod Law will provide funding to support mental health and social programming within The Alex Community Health Centre. McLeod Law is committed to building a meaningful and long-term relationship with The Alex that goes beyond a financial commitment offering support in the form of pro bono advocacy, volunteering and fundraising, including the following important initiatives:
The Alex Community Legal Clinic presented by McLeod Law
Bringing their commitment to investing in their community as well as their expertise in the legal system, McLeod Law lawyers will be volunteering their time to the newly created Alex Community Legal Clinic presented by McLeod Law.
Slated to begin operation in early 2022, these clinics will operate in collaboration with Calgary Legal Guidance, whose mission is to provide legal assistance, information, and support to people who would otherwise not have access to such services, as well as the Alberta Law Foundation, which leads and supports efforts to build a better justice community in Alberta.
The Alex Community Legal Clinic presented by McLeod Law will be a robust addition to the justice navigation services offered to Alex community members through its Community Health Centre and Youth Health Centre.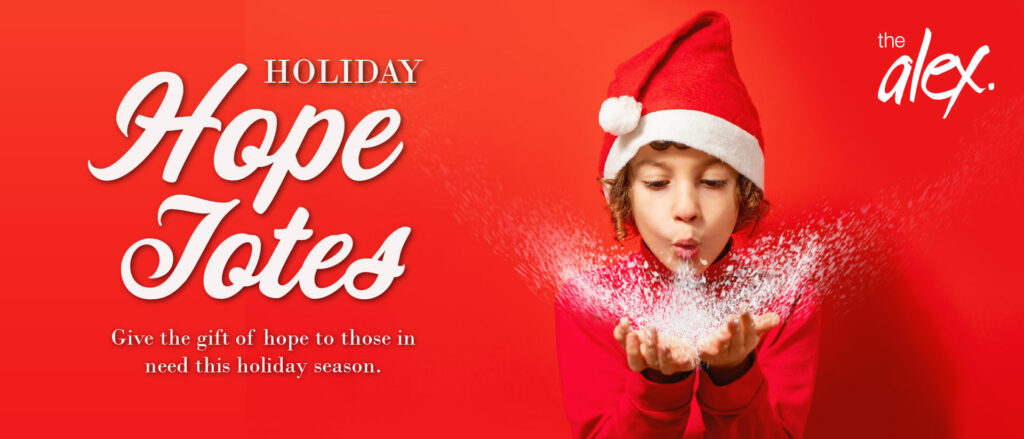 Holiday Hope Totes
Thanks to McLeod Law and their many community partners, the Holiday Hope Totes program is back and bigger than ever!
To kick off our partnership this holiday season, McLeod Law will be working with various partners to collect basic needs items, winter accessories like mittens or toques, and gift cards. Throughout December, the team at McLeod Law will be busy stuffing the tote bags which will be distributed among The Alex community members.
You can find more information on the Holiday Hope Totes program and how you can help here.
McLeod Law and The Alex are grateful for your support to ensure that Calgarians who are experiencing mental or physical health issues, addiction, homelessness, or poverty know that they have not been forgotten at this time of year.
For more information on the Holiday Hope Totes program, visit thealex.ca. Together, there is nothing but possibility.