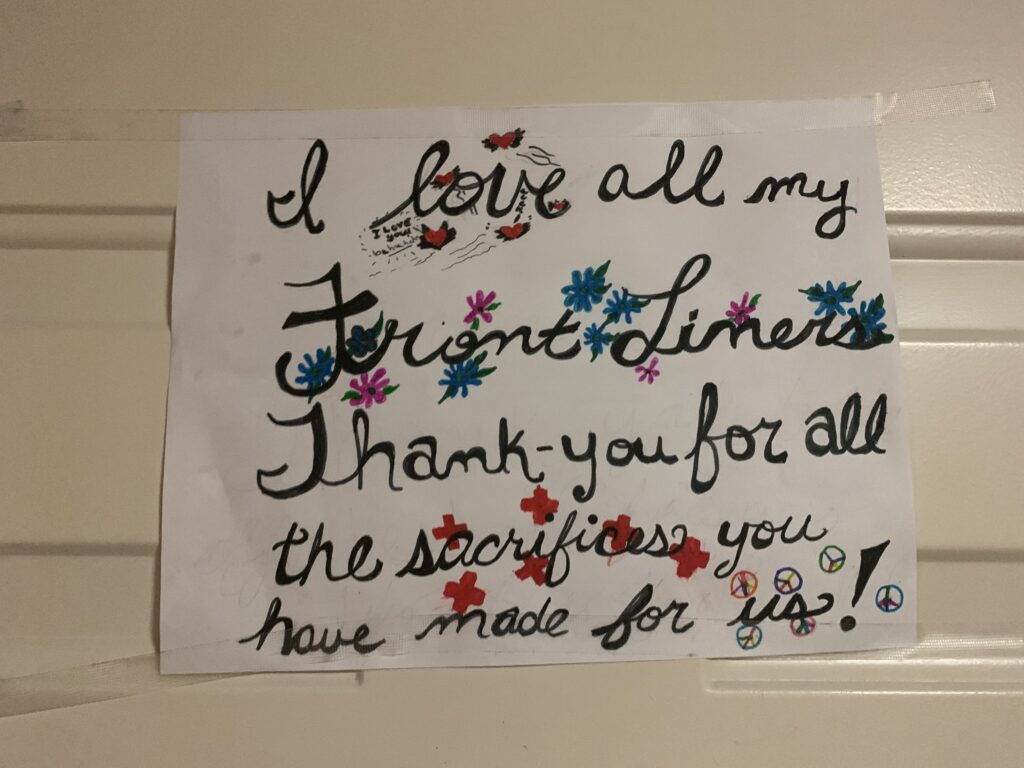 The note, written in beautiful cursive, and decorated with flowers, peace signs and red crosses, read "I love all my Front Liners. Thank you for the sacrifices you have made for us!" Violet had taped it to the door of her room at the Assisted Self-Isolation Site (ASIS) as she was being discharged, as a way of showing her appreciation for the team that had helped her through her two weeks at the hotel.
Violet is one of the many Calgarians experiencing homelessness who entered ASIS so she could have a safe space to self-isolate. She had been traced as a close contact of someone who had contracted COVID-19.
The ASIS program is geared to providing temporary housing as well as medical and social care to those who don't have their own four walls to self-isolate. People who are experiencing homelessness are able to recover safely from the impacts of COVID-19 and to reduce the risk of spreading the virus. The program and facility operates in partnership with The Alex, Alberta Health Services (AHS), The Calgary Homeless Foundation (CHF) and CUPS.
During her time spent at ASIS, the teams worked to ensure she would be supported after her two-week isolation. Each resident receives a customized care plan to provide on-going supports. Violet was provided with a phone and SIM card, and will be moving to a housing facility being operated by Alpha House.
"Having somewhere to go, you know, having a home to go to. Wow. To go home. To cook supper. To cook my own meals. To sleep in my own bed. Some people take it for granted. I implore them not to take it for granted because it can all be taken away in the blink of an eye. But now, to have it given back – it's surreal – it's a glorious gift," Violet said. "This is a godsend – this is a new start. "It's been pretty amazing actually- a well-needed rest. They feed you quite nicely. It was good to put on weight too. The people are really personable here. The one-on-ones were awesome – nurse Rachel is wonderful. I have only been here for a short period of time, but I've done so much soul searching – being healthier and thinking healthier."

Violet, ASIS Client