Moderna vaccines are available at The Alex Community Health Centre
(#102 2840 2 Ave SE, across from Franklin LRT station)
– Tuesday Nov 9th
– Thursday Nov 25th
– Tuesday Dec 7th
– Thursday Dec 16th
*Call 403-266-2622 to book an appointment or walk-in.
Pfizer vaccines are available at The Alex Youth Health Centre for youth ages 12-24
(#104 2840 2 Ave SE, across from Franklin LRT station)
– Tuesday Nov 16th, 11:30am-4:30pm
– Thursday Nov 18th, 11:30am-4:30pm
– Thursday Dec 2nd, 11:30am-4:30pm
– Monday Dec 6th, 1:00pm-5:00pm
*Walk-in only!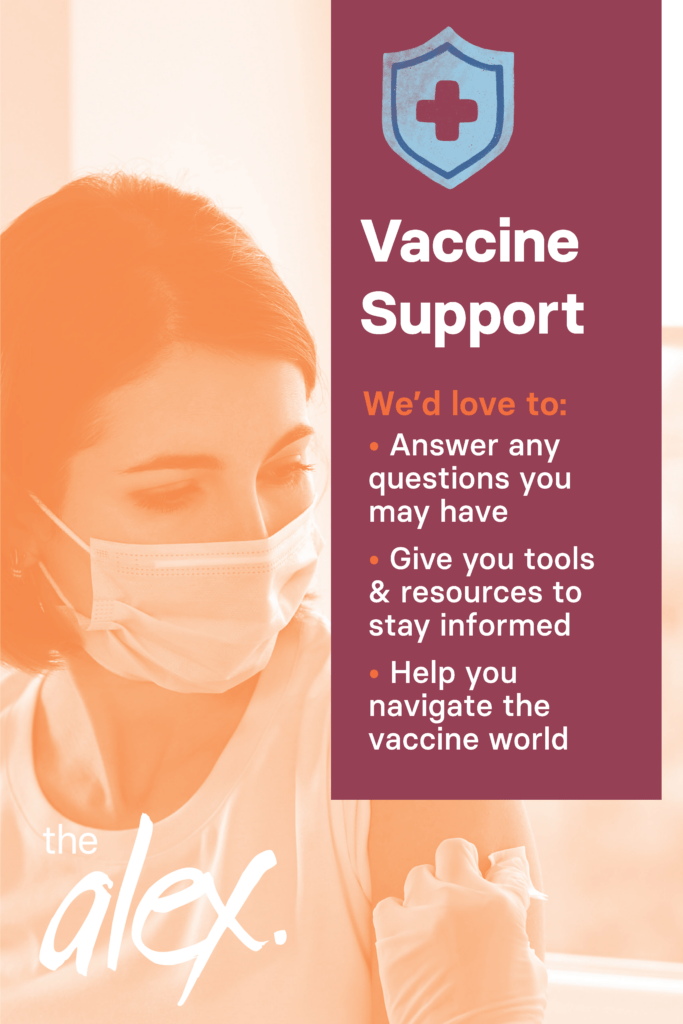 What to Bring
A short sleeve shirt to provide easy access to your upper arm
Your Alberta Healthcare Card (only if you have one)
Yourself! This one is the most important, as it is the only one we can't work around.
You are able to bring a support person. This can be a spouse, family member, friend, or caregiver.
These dates will continue to be updated as more clinics become available.
About The Alex's vaccine campaign
For the past year, The Alex has been deeply involved in the vaccine rollout with a focus on supporting Calgarians who have complex challenges accessing the vaccine.
Our team has provided mobile vaccine clinics on the Community Health Bus (shown below) as well as onsite clinics at The Alex, with support from the CHF, PHAC, City of Calgary, Alberta Health, and Alberta Health Services.
1000+
vaccines administered since April 2021