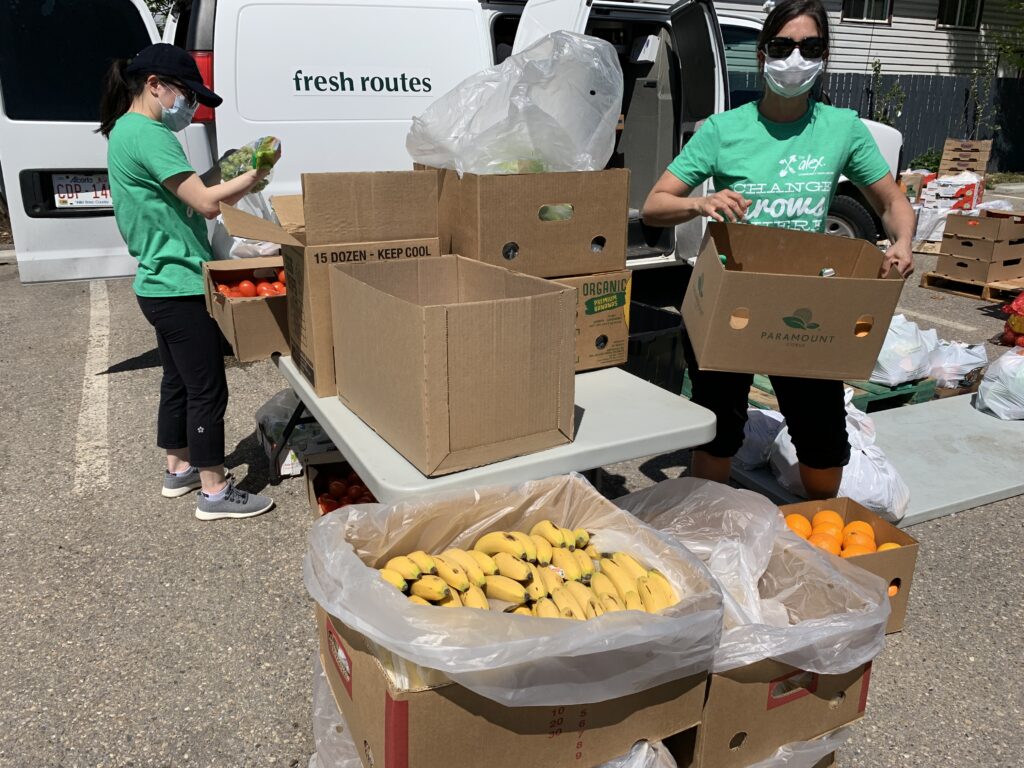 The Alex Community Food Centre parking lot has been transformed into an outdoor market for the coming summer months. Ensuring physical distancing, but celebrating social togetherness, the market is providing a spark of community spirit in the Greater Forest Lawn area.
Every Wednesday Fresh Routes brings a truck filled with fresh fruits and veggies, and sets up shop. Families can leave with bags overflowing with zuchinni, broccoli, carrots, apples, grapes, potatoes and more – a value of $50 for just $25.
Throughout the morning the staff are busy preparing a delicious take-home meal, given for free to every attendee. A generous volunteer has sewn beautiful handmade masks, which are also available for free. Community resources, and opportunities to sign up for programs are also available. The market is a welcome respite for many who have been struggling to stay connected to their community, or to have access to healthy foods through the pandemic.
The collaboration with Fresh Routes and our community kitchen is a wonderful example of how organizations can work together to share resources and enhance each others' programming.
"The Alex and Fresh Routes are both focused on improving access to affordable food, so a partnership was inevitable. The Alex hosted one of the first stops for the Mobile Grocery Store in Calgary, providing flexibility and support while we perfected the model. Since then, the weekly market has thrived! Over the last year, our partnership has only deepened. When the Covid-19 crisis began, The Alex worked with us to bring our new, physically distanced Fresh Basket market to the community. Fresh Routes safely provides ample and affordable pre-packed grocery bags, and The Alex creates a fun, festival-like environment for the community to enjoy – from a distance of course. We are grateful for this partnership,"

Lourdes Juan, Co-Founder of Fresh Routes.
The expanded hours of the Outdoor Market are providing a much-needed opportunity for community members to gather together. While we can't yet all sit together and share a meal, we can share a friendly nod to a neighbour, we can share ideas for recipes for the bounty of food we are taking home, and we can remember that we will get through this together, and come out the other side a stronger community for this shared experience.
Together we are bringing good food to all.