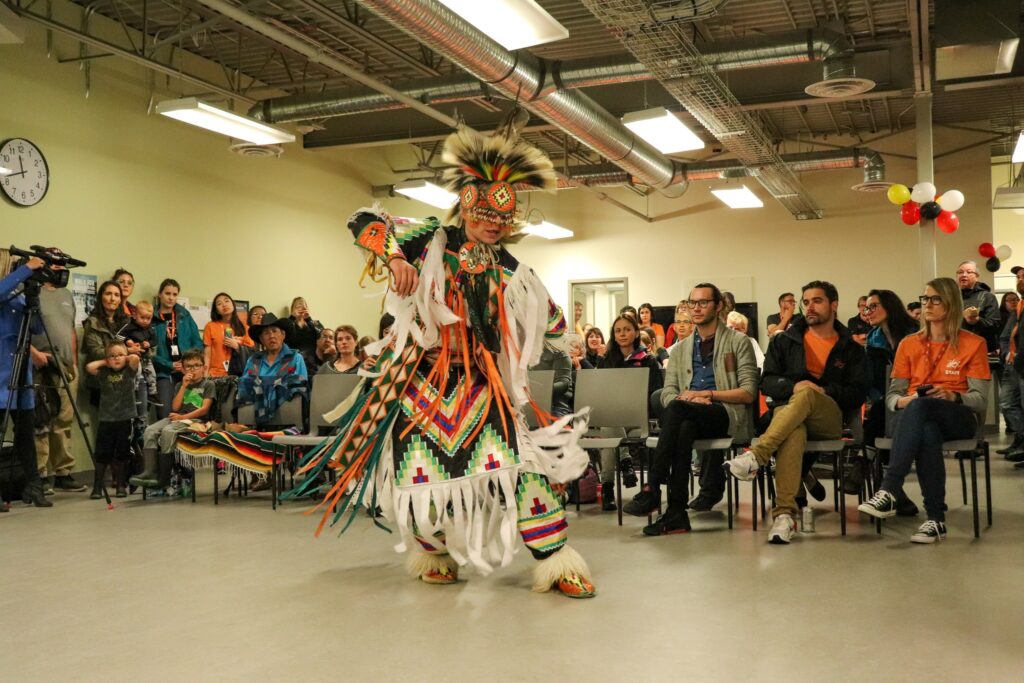 Each year, The Alex staff, partners, and community members gather to celebrate First Nations cultures in Calgary, Alberta.
10th Annual Walk for Reconciliation
It was a wet and rainy morning at 8am, when Alex staff participated in the Walk for Reconciliation. Dozens of community members walked in solidarity to not only remember Canada's painful history of colonization and Indian Residential Schools, but acknowledge the progress that still needs to be made toward healing, truth, and reconciliation. 2019 was the 10th year of the Walk for Reconciliation, and it was organized by several agencies including The Alex, Aspen Family and Community Network Society, Sunrise Community Link, Aboriginal Friendship Centre of Calgary, Fort Calgary, and Metis Nation of Alberta, Region 3.
8th Annual People's Gathering
The 8th Annual People's Gathering saw about 250 attendees this year. We were honoured, humbled, and grateful to organize such an event, as our own agency works to answer the calls to action of Truth and Reconciliation in Canada.
Thank you to Calgary Foundation for not only sponsoring the event, but also stopping by! None of it would have been possible without supporters who invest in the power of community events that are accessible and barrier-free. Thank you to all the performers, including Damase Elis and traditional dancers and drummers. Thank you to CTV News Calgary for the story. And lastly, thank you to the community, who continually reinforce how important it is to have events like this that build connections, promote inclusiveness, and celebrate the diversity in Calgary, Alberta. We can't wait for next year's event!
The People's Gathering was originally set to take place at Olympic Plaza downtown, but was relocated to The Alex due to rainfall. The change of venue was a relief for those looking to dry off after the Walk. Just a short train ride to Franklin LRT station landed Alex staff and community members at our Community Health Centre. The space had been set up beautifully with medicine wheel coloured decor, orange table cloths, and community-style seating for up to 70 people. There was an Indigenous Arts Market which featured the creative work of Teri Ingersoll and Flora Johnson, and staff from Boys and Girls Clubs of Calgary. With a food truck parked outside and hot chocolate at the ready, the event began.
The performances began at 11:45am, with traditional dancers and drummers. Scroll to the bottom of this page for details on each dance!
The audience was engaged from the very beginning, and was excited to participate in the Round Dance.
"My favourite part was the Friendship Dance, because it was fun. We got to dance around."

– Event attendee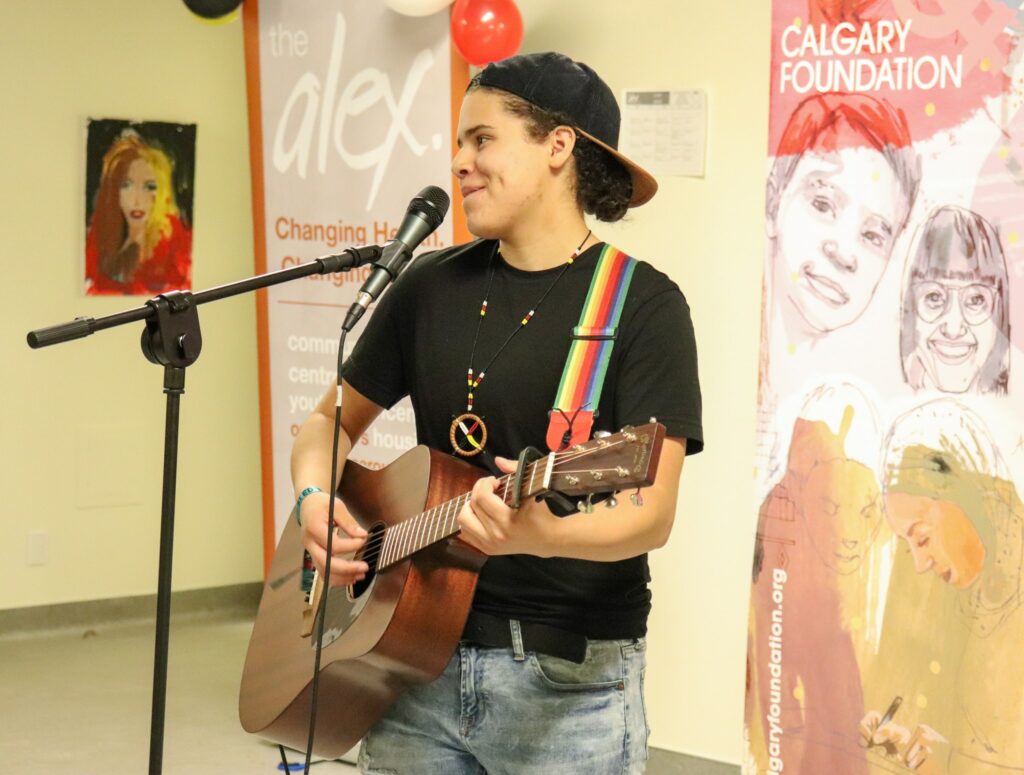 Damase Elis
Next up to perform was Damase Elis, a local Cree Metis musician. The room was mesmerized by their sound, and powerful narrative on Indigenous relations in Canada. Damase played originals as well as covers, and finished up with a song they wrote about growing up in Comox, BC.