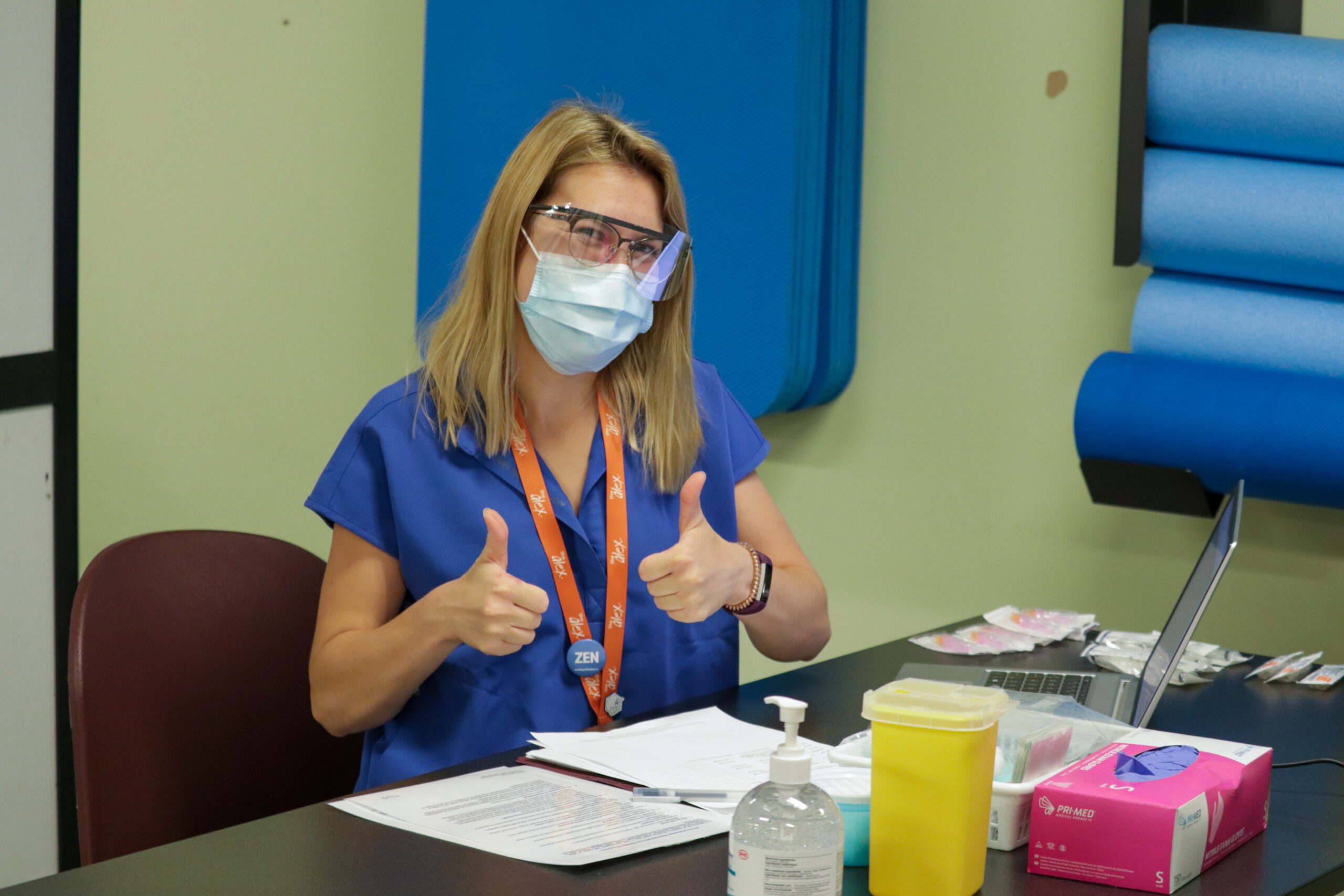 Vaccination & Herd Immunity
Vaccines make our immune systems stronger by building antibodies to help fight and prevent serious disease. Because COVID-19 is a new virus, no one has natural immunity. Getting vaccinated is the most effective means of protecting yourself, your loved ones and the community from COVID-19.
Current Vaccines Available in Alberta:
– Pfizer-BioNTech (mRNA)
– Moderna (mRNA)
Herd immunity is what will get us back to our normal, pre-covid lives. This will happen when at least 70% of people are vaccinated, lowering infection rates and creating a safety net for those who are unable to be vaccinated.
Pfizer/Moderna (MRNA Vaccines)
The Moderna and Pfizer BioNTech vaccines are proven to work in preventing serious illness and death. You will need two doses in separate visits, and the second dose should be more than 21 days after first dose. Alberta is expecting individuals to get a second dose within four months of the first dose. If vaccine supply improves, this could shorten.
Who should get it?
Moderna has been tested and approved for people 18 and over
Pfizer BioNTech is approved for people 12 and over.
Who should consult a doctor first?
Anyone who is pregnant.
Anyone who has an autoimmune disorder or is immunocompromised.
Those with past allergic reactions to vaccines.
Effectiveness
Prevents severe illness and death by 80-90%.
How it works
Uses mRNA technology to teach cells how to make a protein to activate an immune response and make antibodies to fight the real virus. MRNA is a standard way the body translates instructions into protein building instructions.
*It does not change your DNA.
Possible side effects
Pain in your arm, body chills, feeling tired or feverish are common.
Allergic reactions are rare.
No major safety concerns have been identified.
Myth Busting
MYTH: The COVID-19 vaccines were rushed

FACT: No steps were skipped. The vaccines were developed in a shorter timeframe because the influx of global funds and scientific collaboration. All non-medical steps regarding government, paperwork, funding, and administration occurred more quickly.
MYTH: I can test positive for COVID-19 due to the vaccine

FACT: No. The vaccines do not contain the virus that causes COVID-19 and will not lead to disease or a positive test.
MYTH: The vaccine can change my DNA

FACT: Our bodies use mRNA all the time as a recipe to make proteins but cannot use it to make/alter DNA
MYTH: The vaccine will affect fertility and is dangerous for pregnant people

FACT: There is no evidence that the vaccines cause infertility. If you are pregnant, you should talk to your doctor about whether or not the benefits outweigh the risks.
MYTH: I do not need the vaccine if I have recovered from COVID-19

FACT: The vaccine is still recommended for those who have recovered from COVID-19, as it is unknown how long immunity may last.
MYTH: I do not need to isolate if I experience symptoms of COVID-19 after a COVID-19 immunization

FACT: If you are experiencing side effects that are the same as COVID-19 symptoms, you must stay home and away from others even if you think the side effects are from the vaccine. If the side effects start within 24 hours of your vaccine and go away within 48 hours after they began, you do not have to keep isolating. If you have been told to isolate for other reasons, you must keep isolating. If the side effects start after 24 hours or last longer than 48 hours, you should stay home. Contact Health Link by calling 811 for more information.
How to book your COVID-19 vaccination
Book online with AHS
You will not be able to choose which vaccine you receive. Both Pfizer and Moderna are two dose vaccines. You will need to get a second dose in approximately four months time.
Contact a pharmacy
Book with your own pharmacy or whatever one works best for the you. Note, not all pharmacies are participating. You must book an appointment with a participating pharmacy. Drop in requests are not allowed because vaccine supply is limited.
Book at The Alex
The Alex is immunizing current clients. Talk to your Alex team member to book your appointment!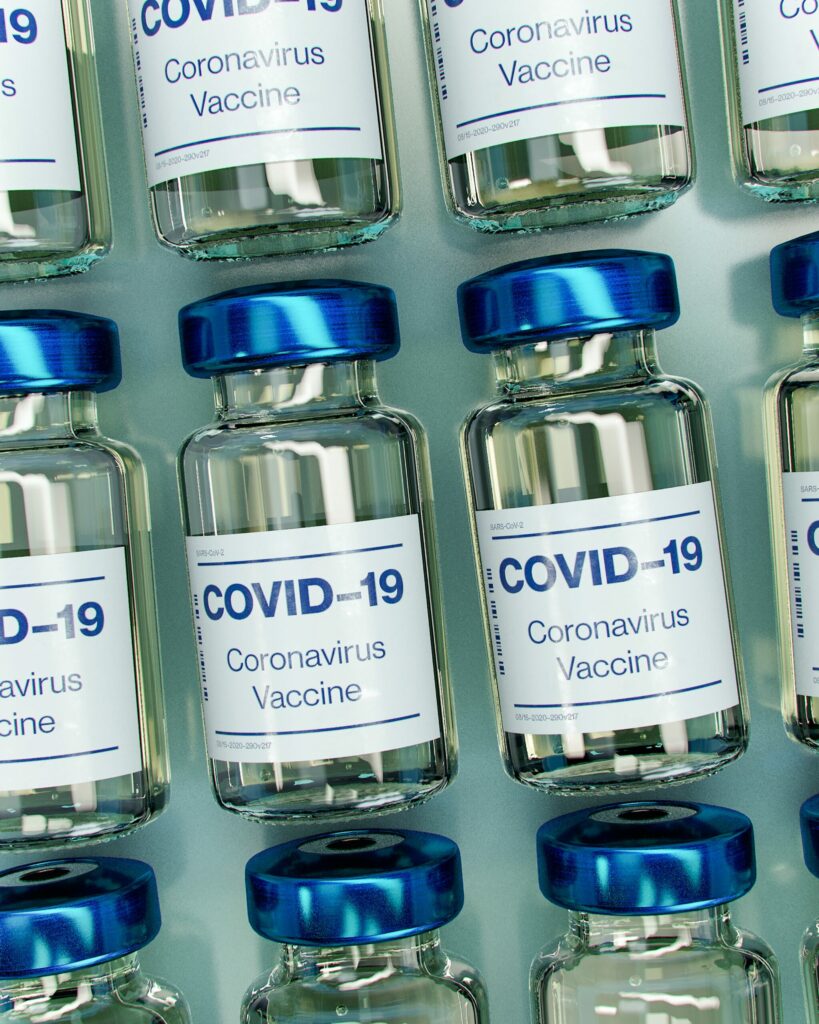 Frequently Asked Questions (FAQs)
If I have COVID symptoms, can I still go to a pharmacy for my scheduled vaccine appointment?
No. If you have COVID-19 symptoms or have been in close contact with a known case, please reschedule your appointment, self-isolate immediately, and book a test online or by calling 811.
Will the vaccine work against the COVID-19 variant strains?
Changes in the COVID-19 virus are expected, resulting in variant strains. Vaccine creators are doing studies to determine whether current vaccines work against these variants.
Can immunized people spread the virus to others?
There isn't enough evidence to know whether someone who received the vaccine is able to spread the virus, which is why everyone must continue following public health measures. This will be monitored as more people in the community receive the vaccine.
Will I have to pay for the vaccine?
No. The vaccine is free.
With everything we do not know about the COVID-19 vaccines, why should I be immunized?
COVID-19 vaccines are proven safe and effective. To stop the spread of the virus, we need to get vaccinated as soon as we are able. Health Canada has completed thorough reviews to confirm no significant safety concerns. The review also determined that the benefits of the COVID-19 vaccines outweigh the risks.
Do I have to get the same type of vaccine for my first and second dose?
As of June 1st, the National Advisory Committee on Immunization (NACI) has recommended that the Pfizer and Moderna vaccines be considered interchangeable for the purposes of second doses. Likewise, NACI has recommended that a dose of either Pfizer or Moderna can be received as a second dose for persons who have had a first-dose of AstraZeneca based on new evidence.
Who will let me know I am eligible for my second dose?
You will need a second dose within four months of your first. With supply increasing, Albertans will be able to schedule second dose appointments in the order they received their first doses.
Anyone vaccinated in:
March or earlier can book their second dose now
April can book their second dose starting June 14
May can book their second dose starting June 28
Will the vaccine be available for children?
The Pfizer vaccine is currently available for people aged 12 and up. Moderna is available for people aged 18 and older.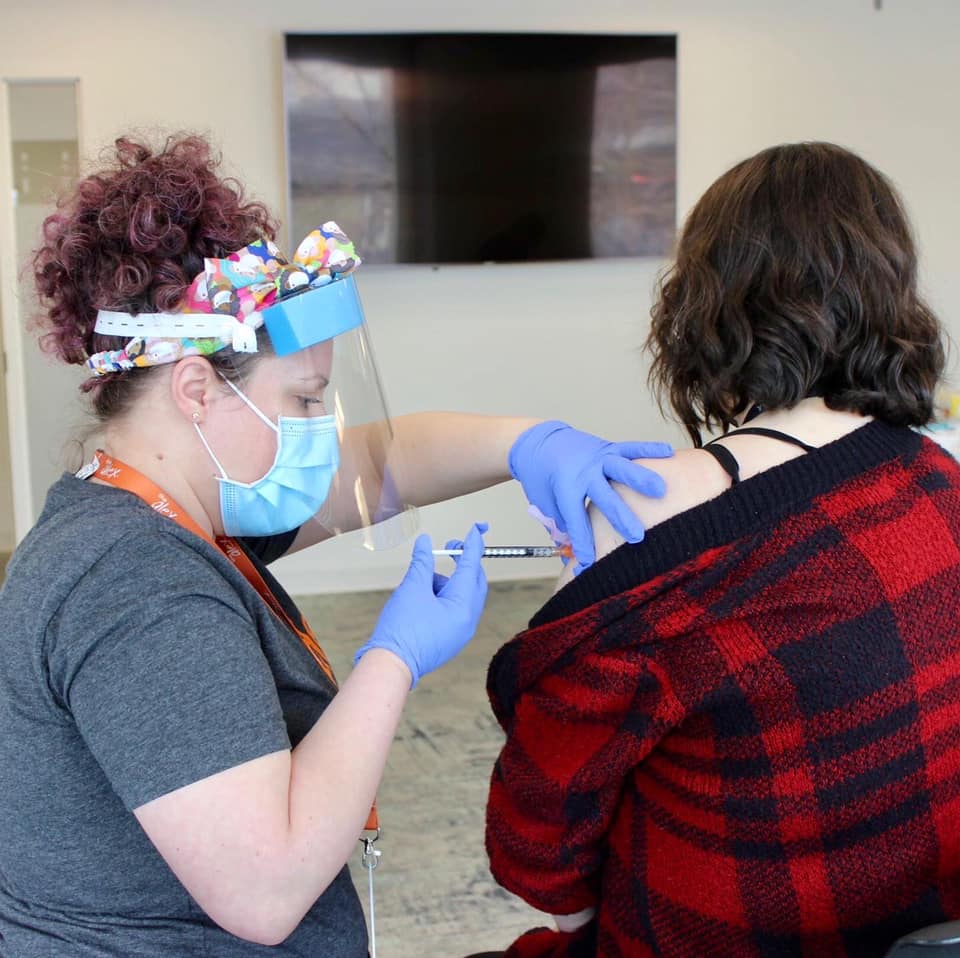 ---
References and Additional Information
Main AHS Vaccine Page
COVID-19 vaccine program | Alberta.ca
211 Support Services
211 Alberta, Information on social, community, health and government services in Alberta
Call, text, or chat with 211.
You will find Covid-19 information, vaccine information, vaccine transportation for seniors, food resources, delivery services, financial assistance, and mental health support.
AHS Covid-19 Vaccine FAQ
COVID-19 Vaccine Frequently Asked Questions | Alberta Health Services
Daily Infographic for ELIGIBILITY
COVID-19 Immunization – Eligibility & Booking Guide (albertahealthservices.ca)
AHS FAQ for Indigenous People and Communities
COVID-19 Indigenous Peoples & Communities | Alberta Health Services
Translated Vaccine Info
COVID-19 translated resources | Alberta.ca
Translated into 13 different languages including Arabic, Chinese, and Spanish.
19 To Zero
19 To Zero
This is a coalition of academics, public health experts, behavioural economists, and creative professionals working to understand, engage with, and shift public perceptions around COVID-19 behaviours and vaccination.
GOV.CA How Vaccines are Developed
COVID-19: How vaccines are developed (video) – Canada.ca
Vaccine Development and Approval in Canada
Vaccine development and approval in Canada – Canada.ca
Immunize Canada
COVID-19 Info | immunizecanada
Canadian Vaccination Evidence Resource and Exchange Centre
CANVax